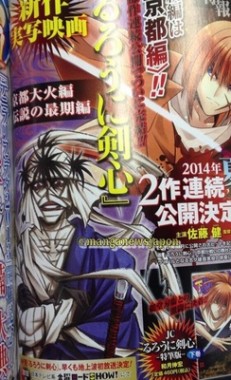 News has just come through that the August issue of Jump Square magazine has confirmed that two sequels to the live-action Rurouni Kenshin film are in the works for release in 2014.
The two follow-up live-action films will adapt the famous Kyoto Arc of Rurouni Kenshin across both films. The Kyoto Arc as fans of the series would know details Himura Kenshin's struggle with the bandage-clad villain Shishio. The films will particularly focus on the 'Great Kyoto Fire' and 'Legend's End' stories.
No official date has been set for the next two films in the Rurouni Kenshin trilogy, but it does appear that both films will be released at some point in 2014. It has been confirmed that Takeru Satou will reprise his role as Kenshin. Stay tuned as more information comes to light on these films.
Source: Manga News