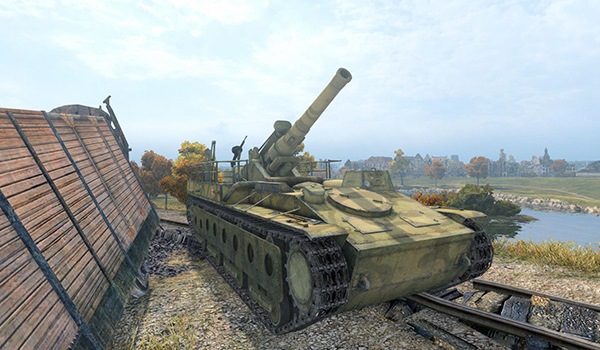 Hot on the heels of Update 8.5, Wargaming have announced details for the upcoming Update 8.6 of their free-to-play MMO, World of Tanks. The update will bring more changes and balance to the in-game economy and will add new self-propelled artillery to counter those pesky tanks.
Artillery gameplay is "going to feel a lot more balanced with a normal ten tier structure, making advancing through that class of armor more comfortable for players", according to Producer Mike Zhivets. Current tier 8 self-propelled guns will be promoted to tier X, while the new "SPGs" in the update will take their place in the middle tiers.
The Americans will be given the M44 and M53/55 artillery units while the Soviets get the mighty SU-122A and SU-14-1. The Germans will be reinforced with three new units: 10.5 GW Mk.IV(e), Pz.Sfl.IVb, and the G.W.Tiger (P). The French will be strengthened with the AMX Obusier automoteur de 105 and Bat.Chatillon155 (55_ artillery guns while the UK tech tree will also include the Sexton, a new premium self-propelled gun boasting a high rate of fire and reload times.
8.6 will also include a new premium British medium tank, the A33 Excelsion, and a brand new map called Pearl River along with one based in Korea. Three existing maps will get a visual boost with improved shading effects: Siegfried Line, South Coast and Malinovka.
Check out the new units below. For more info on Wargaming's free MMOs, visit their official site and registration is available here.