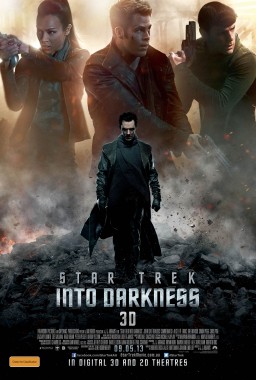 Today, we've got a total of 5 new clips to share, thanks to Paramount Pictures, for the upcoming Star Trek Into Darkness, coming to Australian cinemas on May 9th.
The 'Disruption' clips you see below are intercepted transmissions by John Harrison (Benedict Cumberbatch) from both Kirk and Spock. A particularly strong clip from the film is the one titled 'I Allow It', and shows an emotional duel between our two lead characters, Captain Kirk and John Harrison.
We also have a tense, adrenaline-pumping chase/escape sequence in 'We Won't Fit' and a fantastic Character Profile of Captain Kirk that includes interviews with leading actor Chris Pine, which we've embedded at the very bottom of this article.
Check out the aforementioned clips directly below!
Star Trek Into Darkness – Kirk Disruption
Star Trek Into Darkness – Spock Disruption
Star Trek Into Darkness – 'I Allow It' Clip
Star Trek Into Darkness – 'We Won't Fit' Clip