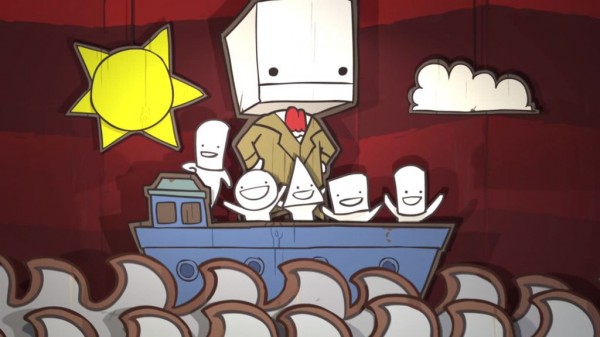 Those who have now experienced the newest game from The Behemoth may agree that one of the best things about BattleBlock Theater are the cutscenes. Filled with random and absurdist humor, the cutscenes play off of both the narration of Will Stamper and the silly puppet theater-styled animations. But those that remember the original trailer back in 2011 may notice that the general presentation of the cutscenes is a little different than what they showed back then.
So, what is it that gives the game's finalized cutscenes that extra something to bridge the visual gap to Stamper's vocal mastery? Well, The Behemoth has revealed today that it is due to Derek Lieu, an animator extraordinaire, joining the team to take the cutscenes from Flash only to utilizing After Effects. Overall, the story is an interesting read and those wanting to find out more, especially those more technical details, can check it out from The Behemoth's dev blog HERE.
Those that are still on the fence about BattleBlock Theater can check our review of the game HERE. BattleBlock Theater was developed by The Behemoth and published by Microsoft Studios for the Xbox Live Arcade.