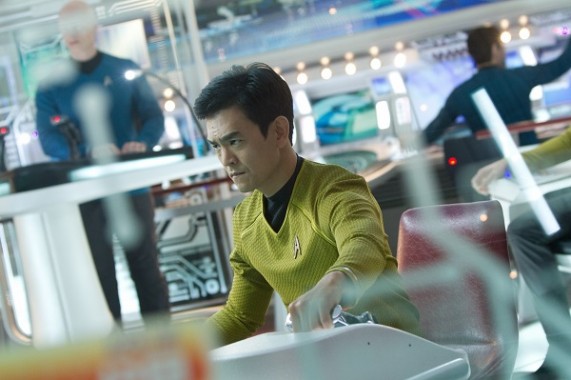 Star Trek Into Darkness (review here) director J.J. Abrams, writer and producer Damon Lindelof and stars Chris Pine, John Cho and Alice Eve will be taking part in a Google+ Hangout with astronauts Chris Cassidy – who is currently on the International Space Station – Michael Fincke and Kjell Lindgren, from NASA's Johnson Space Center in Houston, TX from 2:00 – 2:45 a.m. AEST on May 17th. It will be featured on NASA's official Google+ page.
This marks the very first time talent from a major motion picture are participating in a NASA Google+ Hangout. The participants will ask each other questions related to the emerging intersection between the fiction of Star Trek and the reality of NASA's current programs, as well as take questions from fans on the Intrepid Sea, Air & Space Museum in New York City (home of the space shuttle Enterprise, the Smithsonian's National Air and Space Museum in Washington and submitted through social media channels. If you would like to submit your question, you can do so by using the hashtag #askNASA on Google+, Twitter, YouTube or Instagram, or leave a comment on the official Star Trek Into Darkness Facebook page, but get them in quick!
Into Darkness Featurette
Today, we'll also got a bunch of new Star Trek Into Darkness clips to share. Along with the above featurette, directly below you will find character profiles for fan favorites Bones (Karl Urban, Dr. Carol Marcus (Alice Eve) and Sulu (John Cho). Embedded at the very bottom of this article is also a video taking a look at J.J. Abrams' vision for this sequel. Enjoy Trekkies, and go watch Star Trek Into Darkness, in theatres right now!
Character Profile – Bones
Character Profile – Dr. Carol Marcus
Character Profile – Sulu