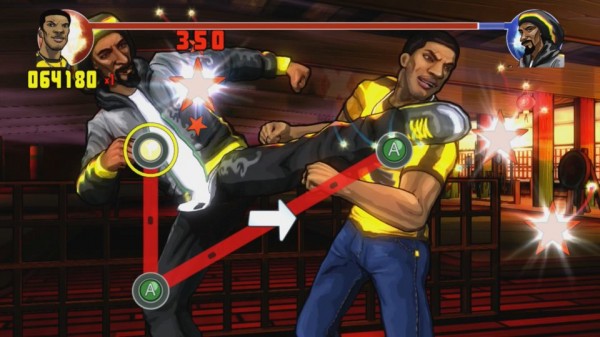 Way of the Dogg, an arcade rhythm-fighter title brought to us by Snoop D-O-Double-Gizzle himself is releasing today on the Xbox Live Arcade, with release on the PSN Store and mobile platforms soon to follow.
The bombastic game draws inspiration from Snoop's love of 70s Kung-Fu movies (don't we all love 'em!), and follows the story of America Jones – the toughest street fighter in town, whose two great passions are the fight and his woman, Sierra. But, in a classic filmic twist, Sierra is taken from him, forcing AJ to step up and take his fighting skills to a whole new level under the watchful eye of Master Snoop. He must learn the "Way of the Dogg".
Way of The Dogg features intense, rhythm-action combat matched to a selection of Snoop Dogg's greatest hits including: "Who am I (What's my Name)", "Gz and Hustlas", "From Tha Chuuch To Da Palace" and " Pump Pump." Way of the Dogg's story mode pits players against the toughest fighters around in brutal one-on-one fights. In addition, the game features highly stylized temple fight-challenges taught by Snoop and multiplayer to boot [to the face!].
Snoop spoke about his inspirations in making the title with Echo Peak;
I've always dug old school Kung Fu movies. Growing up in the hood, me and the homies used to hit the Palace Theater in Long Beach to watch the double feature Kung-Fu flicks and come out of the theater play fighting each other, making those old school sound effects. I wanted Way of the Dogg to pay tribute to that feeling and bring that same excitement, fused with my music, to the game.
You can check out the Way of the Dogg Gameplay Trailer embedded below, and visit the official Way of the Dogg Facebook page for all the latest updates.