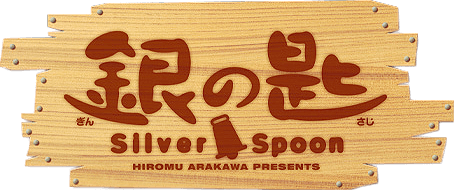 The official site for Hiromu Arakawa's Silver Spoon, the latest anime adaptation of one of her manga series, has released the details regarding the Japanese voice cast. The anime will feature:
Ryohei Kimura as Yūgo Hachiken
Marie Miyaki as Aki Mikage
Tooru Sakurai as Ichirō Komaba
Ayahi Takagaki as Tamako Inada
Nobunaga Shimazaki as Shinnosuke Aikawa
Masayuki Shouji as Keiji Tokiwa
Kengo Takanashi as Hajime Nishikawa
Nobuyuki Kobushi as Tarō Beppu
Shiori Izawa as Mayumi Yoshino
Katsuyuki Konishi as Shingo Hachiken
Yasunori Masutani as Nakajima-sensei
Yuji Mitsuya as Principal
Yuuki Ono as Shin'ichirō Inada
Takahiro Mizushima as Shin'ei Ōkawa
Asami Tano as Mika Toyonishi
Yoshihisa Kawahara as Sakuragi-sensei
Tomohiro Nishimura as Niwatori-sensei
Kenji Utsumi as Todoroki-sensei
The site also revealed details regarding the staff:
Director – Tomohiko Ito
Assistant Director – Kotomi Deai (A-1 Pictures)
Script Writer – Taku Kishimoto
Character Designer/Chief Animation Director – Jun Nakai
Music Score – Shusei Murai
Animal Design – Yasuo Muroi
Prop Design – Tomoko Sudo
Art Director – Sawako Takagi (Studio Wyeth)
Art Setting – Shinji Sugiyama (Studio Wyeth)
Color Design – Takahiro Mogi
Director of Photography- Toshiaki Aoshima
CG Director – Ryuta Undo
Editing – Shigeru Nishiyama (REAL-T)
Sound Director – Tomohiko Ito
Sound Effects – Yasuyuki Konno
Silver Spoon focuses on the daily life of Yugo Hachiken, a student at Oezo Agricultural High School. With no notions of following an agricultural path, Hachiken enrolled under the assumption that he could easily top student in the class. The series is set to air as a part of Fuji TVs noitaminA programming block in July. Check out Aniplex's trailers for a small glimpse of life on the farm.