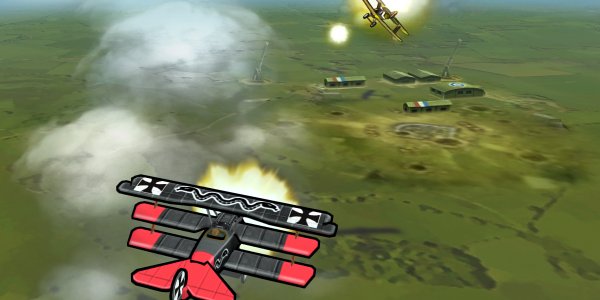 2K Games and Firaxis Games, the critically acclaimed studio responsible for  Sid Meier's Civilization series, have just recently launched the free to play title Sid Meier's Ace Patrol for iPhone and iPad.
From the mind of legendary designer Sid Meier, Ace Patrol is a new mobile strategy game based on World War 1 aerial combat that allows players to relive history as they pilot the skies in defense of their base camp and allies. Players lead a team of Aces through various campaigns across Europe as they evolve their fleet with the ability to upgrade skills, improve aircraft and much more.
President of 2k, Cristoph Hartmann, had this to say about the games release:
"2K's critically acclaimed triple-A game design experience is being brought to bear on the burgeoning mobile market…Sid Meier is a gaming legend with a strong pedigree of groundbreaking strategy and simulation titles and his latest creation, Ace Patrol, sets a new watermark for mobile game design."
Key Features of the game include
Piloting a selection of 30 vintage and historical WWI aircrafts through more than 120 missions;
Building out a team of Aces that each offer a special skill set to expand gameplay options;
Upgrading and promoting the top fighter pilots throughout the course of the campaign;
Playing Turn-based Single-Player, Two-Player Hot-Pad or Asynchronous Multiplayer through Game Center.
If you want to download the game, head to the App Store, or for more information on the game visit the official forums. Sid Meier's Ace Patrol has already been received to some great reviews. You can check out our recommendation for the game and other iOS titles in our weekly iOS Game Suggestions page and don't forget to check out the trailer below.