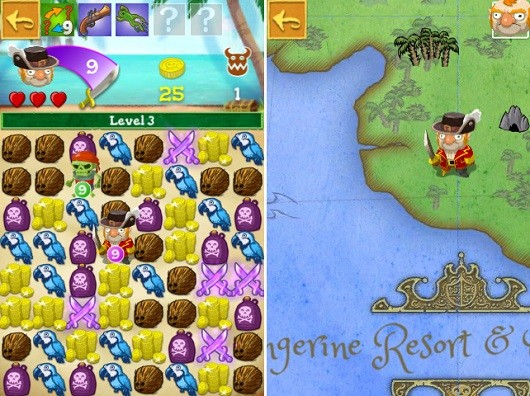 Scurvy Scallywags in The Voyage to Discover the Ultimate Sea Shanty: A Musical Match-3 Pirate RPG (here by referred to only as Scurvy Scallywags for obvious reasons) is best described as a mash-up of a match-3-objects together puzzle game with RPG elements and a pirate themed stage show. If any of those elements interest you then you will be happy to know Scurvy Scallywags will be available soon on the iPhone and iPad.
Scurvy Scallywags is an indie game developed by Ron Gilbert (formerly of Double Fine and creator of Monkey Island) and Clayton Kauzlaric (who was co-creator of the comedy RPG DeathSpank). In this game, player's move a pirate around the board by matching 3 or more tiles. With each match, the board shifts in the direction you swiped, so you can use strategy to line up your pirate with items you need or avoid enemies who you are afraid to fight.
Players can create their own ship and customise their pirate to their liking as they fight and pillage through four mysterious lands to find the hidden verses of a long-lost Ultimate Sea Shanty. The RPG elements include boosting your stats, acquiring special skills to help you during gameplay and completing side quests. The game also sports 50 humourous GameCenter achievements.
If you want to see all the crazy pirate action for yourself, check out the trailer below and keep an eye out on the App Store  in the coming months for the games full release. Ron Gilbert has stated there are plans to port the game to the Android in the future.