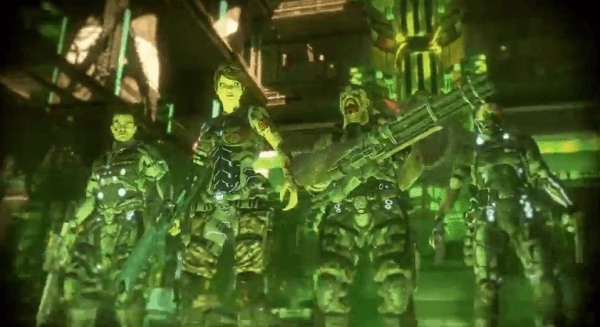 UFO Interactive Games, the folks that brought you Way of the Samurai III, Raiden IV, and more, are bringing you a third-person shooter for the Xbox Live Arcade dubbed Scourge: Outbreak.
Developed by Tragnarion Studios, the upcoming shooter will be releasing for the Xbox Live Arcade on July 3, 2013. The game features a raw, gritty, futuristic squad-based game built on Unreal Engine 3. It pits the veteran mercenaries of Echo Squad against the Nogari Corporation, their sworn enemies. Echo squad will have to go behind enemy lines to save a double agent and recover a mysterious meteorite fragment.
Originally released for PC in 2010, Scourge: Outbreak marks the debut of the massively overhauled The Scourge Project: Episodes 1 & 2. Key features to the new and improved game include:
Up to 4-Player Co-op Campaign with 6+ hours of gameplay
4 Playable Characters, each with different weapon handling stats and a distinct combination of Special Abilities
Unique character-specific flashbacks that reveal critical past events, and shed a new light on the game's story
XP system to track your experience and unlock powerful gameplay rewards in Campaign AND Multiplayer
Squad AI for groups with less than 4 Players
Quick-Order-System (QOS) for rapid deployment of squad-members
9 Weapons, plus multiple variants of each to suit your style of play
Up to 8 Players in Deathmatch, Team Deathmatch and Capture-The-Flag multiplayer Versus modes in 5 action-packed maps!
Leaderboards for competing with friends and other Players around the world!
Challenging Achievements to unlock
For more information, be sure to check out the trailer video below. You can also check out the official website for the game here.