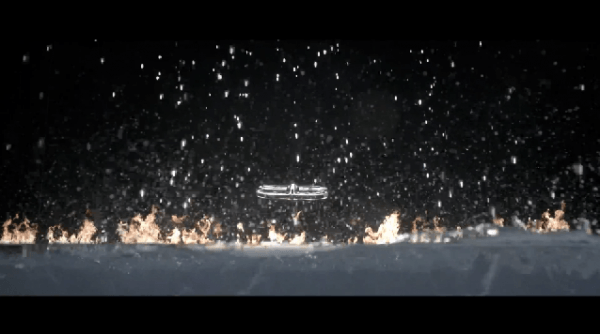 The team over at Parrot have released a film for their AR. Drone 2.0 flying device that showcases the variety of situations that the AR. Drone 2.0 can potentially withstand. In the film, we see the AR. Drone fly through the fire and the flames, watch as it starts dancing in the rain and through the thin ice before it never quite starts the breaking of the wall.
What's interesting about this particular video is that it is shot entirely in slow motion on the Phantom Flex HD camera, which seems to be an insanely high quality camera capable of amazing slow motion capture. The rate at which this shot was filmed was at 1200 frames per second, which is an incredible amount and nearing 100x what the eye can see.
Lighting in chiaroscuro, a black set with invisible boundaries… The scene is set up. The singular shape of the Parrot AR.Drone 2.0 appears in a halo of light…Its engines pushed to their maximum, the quadricopter takes off in a mad dash during which it has to brave the elements rising up in front of it, including water and fire…The extreme slow motion enabled by the high speed Phantom Flex camera reveal the magical and fascinating spectacle of the sturdiness of the machine faced with the elements: the flames sucked up by the rotational motion of the propellers; droplets exploding on its blades…The sound track, an astonishing rock version of Beethoven's Ode to joy, highlights the beauty of the images and the power of the flying machine.

To create such precise images, Parrot used a high speed HD Phantom Flex camera for the first time.
As the video states, this video is a stunt and should never be replicated at home unless you are a professional. However, would you say that this is an accurate representation of the drone? Watch the trailer embedded below and let us know what you think.