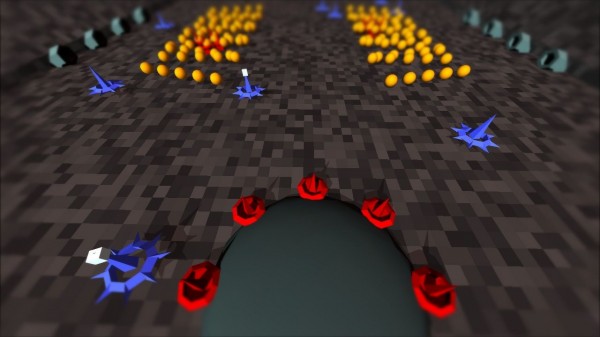 Cello fortress is an odd and unique game. It essentially is a mix between a live cello concert and a video game. Four players from an audience grab a controller each, sit in front of the stage and play a twin-stick-shooter. The players a little tanks that attack a variety of different cannons which are controlled by the cellist on stage. The canons appear and shoot depending on how he decides to play the cello. Very, very interesting.
The creator and cellist for Cello Fortress is a man by the name of Joost van Dongen. Joost is a Dutch, indie game creator who is actually making Cello Fortress in his spare time. Before this he made the game Proun which is an abstract racing game with a minimalistic art style. It was well received by all different levels of society be it gamers, reviewers or even artists. Joost has been playing cello for at least 20 years and plays in an orchestra called Kunstrorkest. He is also the lead programmer and co-founder of Ronimo Games, the studio behind the game Awesomenauts and the award winning, side-scrolling, strategy game Swords & Soldiers.
Cello Fortress is his solo project. Joost explained:
"The challenge is to not only control the game in the right way, but also play good music while doing so. Just quickly skipping between the various attacks would result in horrible music, so I really need to think ahead a bit and make the music flow fluently from attack to attack. Add to this that it is all improvised, which means that I need to come up with the melodies while playing, and it becomes clear what a challenge this game is for the cellist. The result works brilliantly: playing, hearing and seeing Cello Fortress in action is quite a show!"
Joost and Cello Fortress are currently touring while the game is still under development and is currently improving so keep your eyes out for this one!
Check out the Trailer in the Featured Video section below and don't forget to drop us a line in our comments section just under that.