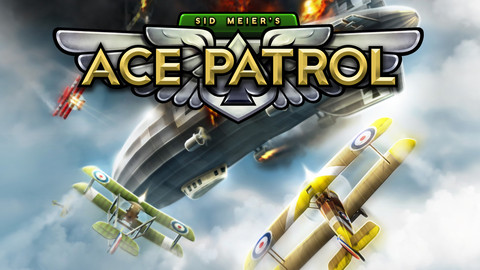 Welcome back for this week's iOS Game Suggestions. If you missed last week's, or are new to the suggestions, click on the link below and check out what cool games you should be picking up for your iOS device along with the introduction on how the suggestions work. (suggestions 1 has how it all works)
MasterAbbott's iOS Game Suggestions
A very quiet week on iTunes! Not sure what happened but not many games were released that took my fancy. But from the ones that did they they are well worth taking a look at. This week I've suggested a total of 14 great quality titles. Make sure you check them all especially… Special Enquiry Details, Tasty Tadpoles, Sid Meier's Ace Patrol, Blitz Brigade  just to name a few.
Break down below :
8 – FREE Games
2 – $0.99c Games
4 – Over $0.99c Games
As always for this week's suggestions are all new titles that you should take a look at and consider spending your hard earned iTunes cash / time on.  Well the Free games just below certainly should all be given a shot as they won't cost you anything!
For The Cheapskates – FREE GAMES
 

MASTERABBOTT'S FREE GAME PICK OF THE WEEK!

Sid Meier's Ace Partrol – Price : FREE – Publisher – 2K Games (The skies over Europe are a dangerous place, where ace pilots lead their squadrons to glorious victory or crushing defeat! Take control of dozens of the most famous fighter planes of WWI and head into the dogfight. Roll, slip, and loop to get the drop on enemy aces. Upgrade your fighters over the course of your campaign and promote your best pilots so they learn new skills to give them an edge in battle. Can you change the tide of the war? Or will you go down in flames to an enemy ace?) on iPad & iPhone. GET IT NOW FOR FREE

 
Blitz Brigade – Online multiplayer shooting action! – Price : FREE – Publisher –

Gameloft

 (You ready for the gun show? Axis or Allies, victory or defeat, mayo or mustard… All will be decided in the ultimate FPS showdown, Blitz Brigade! Become one of five highly skilled and totally badass classes and team up with other players to pound your enemies into the dirt and call them mean names.

) runs on iPad & iPhone.

GET IT NOW FOR FREE

 
Flick Golf! Free – Price : FREE – Publisher –

Funky Bee Games

 (No clubs. No rules. Just flick, spin and curve your shots to try and sink that perfect hole in one. Watch out for the usual hazards; bunkers, trees, sand, water… and of course the wind! Flick Golf is just the most fun you'll have on any fairway! We've added our trademark spin control, created the most beautiful hole-in-one courses around and what you have is the most addictive golf game ever!

) runs on iPad & iPhone.

GET IT NOW FOR FREE

Reign Of Dragons – Price : FREE – Publisher –

Drecom Co

 (Who will be the next Dragon King? CONQUEST, LEVEL UP, and EVOLVE epic dragon cards! Engage in head-to-head COMBAT and take place in TOURNAMENTS for WORLDWIDE GLORY.

) runs on iPad & iPhone.

GET IT NOW FOR FREE

 
Mega Jump – Price : FREE – Publisher –

Get Set Games

 (Get ready to blast off on an epic jumping journey with Mega Jump!  Collect coins, grab crazy powerups, and evade monsters to boost yourself to the edge of the Universe and beyond!

) runs on iPad & iPhone.

GET IT NOW FOR FREE

 

The Oregon Trail: American Settler – Price : FREE – Publisher – Gameloft (You've conquered the trail, now it's time to tame the frontier! Experience the next step in The Oregon Trail story, where you and your family can finally settle down and build a new home in the Wild West…) on iPad & iPhone. GET IT NOW FOR FREE

 
Running With Friends – Price : FREE – Publisher –

Zynga

 (Outrun and outscore your friends as you stay one step ahead of charging bulls on the streets of Pamplona, Spain. DODGE charging bulls, speeding cars, flying barrels and more! JUMP off ramps and soar above buildings. RIDE bucking bulls for bonuses. CHALLENGE your friends or run with new ones. RUN as a ninja, ballerina, or zombie. COMPETE to be on top of the leaderboard. EXPLORE cool locations.

) runs on iPad & iPhone.

GET IT NOW FOR FREE

 

Say The Same Thing – Price : FREE – Publisher – Space Inch (From the band OK Go, a totally new kind of word game. It's creative, with no preset answers — a funny, unpredictable, mind-melding, turn-by-turn game where you have to think like your friends! Say the Same Thing is the word game where you and a friend win together! You each start by entering a random word and then you each guess a word that connects those two, something they both have in common or a bridge between them (see some examples in the screenshots). Repeat with each new pair of words until you Say the Same Thing!) on iPhone & iPad. GET IT NOW FOR FREE
For The Bargain Hunters – 99c Games
| | |
| --- | --- |
| | Tasty Tadpoles – Price : $0.99 – Publisher – Mark White (Tasty Tadpoles is a deliciously addictive trial of survival, available now on iPhone, iPod Touch and iPad. Tap your tenacious tadpole triumphantly through three puzzling ponds of peril.) runs on iPad & iPhone. BUY NOW |
|   | Bellyfish – Price : $0.99 – Publisher – Duello Iletism (An endless adventure from the creators of iSlash! Swim freely with intuitive tilt controls through beautiful underwater environments. Fight your evil enemies with unique and fun power-ups. Join the adventure and see how high you can go!) runs on iPhone & iPad. BUY NOW |
For The Millionaires – All games over $0.99
Special Enquiry Detail: Engaged to Kill – Price : $5.49  – Publisher – G5 Entertainment (Try your hand at investigating a murder and bring the killer to justice! Detectives Turino and Lamonte have been assigned to a new investigative unit: Special Enquiry Detail. Their first case is the shocking death of the daughter of two charity fundraisers. So the list of suspects is growing. With pressure from the captain and the mayor to solve the case quickly, the two detectives must uncover the trail that leads to the murderer.) runs on iPhone & iPad. BUY NOW

 
Las Vegas! – Price : $2.99 – Publisher –

Ravensburger Digital

 (Las Vegas combines simple gameplay with challenging strategy for a motivating, addictive gaming experience. Once you have started a game, you'll want to play second round, then another… and another. The digital version of the game has been given a new look, and sets the player in the middle of the glitz and glamour of Las Vegas. The clatter of slot machines and jazzy tunes provide a typical casino atmosphere.

) runs on iPad.

BUY NOW

 
Go Home Dinosaurs – Price : $5.49 – Publisher –

Fire Hose Games

 (Todd Rex wants steak. Todd Rex wants YOUR steak. Are you gonna let him take it? No way! Go Home, Dinosaurs! Stop hordes of marauding Dinos from crashing your party in the world's premier BBQ defense simulator! Unlock powerful towers that act like weaponized puzzle pieces. Take control of a rock-throwing, coconut-gathering gopher to build your defenses. With adorable characters and intense strategy, Go Home Dinosaurs is accessible enough for kids and challenging enough for adults.) runs iPad & iPhone. BUY NOW
 

Doodle God – Price : $1.99  – Publisher – Joybits (The power of creation is in your hands! In this addictive, ALL ages, puzzle game mix and match different combinations of fire, earth, wind and air to create an entire universe! Of course the universe was not created in a day. You'll have to work your up from a simple microorganism to create animals, tools, storms and even build armies before you have what it takes to build the universe!) runs on iPhone & iPad. BUY NOW
There you have it folks these games should keep you busy for quite some time well until next week at least. I'll be back next week for another dose of iOS goodness, in the meantime if you would also like to suggest your own suggestions, please feel free to share them in the comments section below or in the iOS forum section on the site here.
Remember kids, Play Hard Or Don't Play At All!