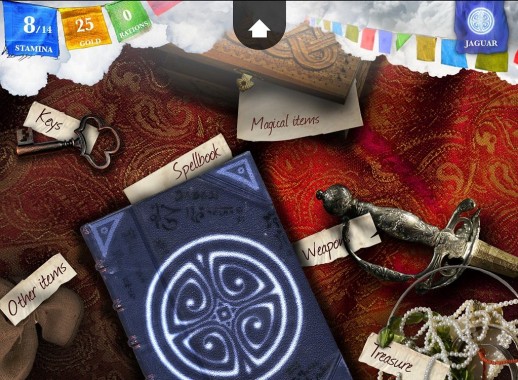 Welcome back for this week's iOS Game Suggestions. If you missed last week's, or are new to the suggestions, click on the link below and check out what cool games you should be picking up for your iOS device along with the introduction on how the suggestions work. (suggestions 1 has how it all works)
MasterAbbott's iOS Game Suggestions
A great week on iTunes! As always, it started slow and but ended with a bang! There are many must-buy games this week in all departments, FREE, 99c and over 99c. This week I've suggested a total of 20 great quality titles. Make sure you check them all especially… CandyMeleon, Steve Jackson's Sorcery!, Star Command, Oh My Heroes! Haunted Hallow, LEGO Star Wars The Yoda Chronicles just to name a few.
Break down below :
10 – FREE Games
4 – $0.99c Games
6 – Over $0.99c Games
As always for this week's suggestions are all new titles that you should take a look at and consider spending your hard earned iTunes cash / time on.  Well the Free games just below certainly should all be given a shot as they won't cost you anything!
For The Cheapskates – FREE GAMES
 

MASTERABBOTT'S FREE GAME PICK OF THE WEEK!

CandyMeleon – Price : FREE – Publisher – BulkyPix (Introducing a new specie of Chameleon: The CandyMeleon! Attracted by treats and sweets, the CandyMeleon can devour an unbelievable amount of candies and never gets sick of it! This malicious creature engaged in sabotage toward the nearby candy factory. In the explosion: thousands of candies have been blown away in the sky! And what's best than a CandyMeleon extensible tongue to gulp them all down before they reach the ground?) on iPad & iPhone. GET IT NOW FOR FREE

 
Dark Avenger – Price : FREE – Publisher –

Gamevil

 (Evil has awoken from its slumber. Our heroes must rise and send the forces of darkness back to the depths of hell. Choose from three heroic classes: Templar, Archer, or Mage. Equipped with enhanced, intuitive controls, you will experience the game like never before! Explore hellish dungeons and collect powerful, legendary treasures in your route to ridding the world of evil. Participate in the Tower of Eternity and solidify your rank as the mightiest. Featuring real-time PvP, you can battle friends and foes around the globe!

) runs on iPad & iPhone.

GET IT NOW FOR FREE

 
LEGO Star Wars The Yoda Chronicles – Price : FREE – Publisher –

The LEGO Group

 (For hundreds of years Yoda™ has trained the Jedi Knights™ of the future, but never for something like this. The Dark Side is preparing a weapon more powerful than any Jedi™ has ever faced before. Play now to take control of the galaxy! Build, create and control your favorite characters and vehicles to smash your enemy, solve puzzles and complete challenges within the LEGO® Star Wars™ universe.

) runs on iPad & iPhone.

GET IT NOW FOR FREE

 
Haunted Hallow – Price : FREE – Publisher –

2K Games

 (Build a fearsome band of monsters and compete for ultimate control of an unsuspecting village! From Firaxis, the studio that brought you Sid Meier's Civilization and XCOM: Enemy Unknown comes, Haunted Hollow, a competitive, spooky strategy game where you build and rule a mysterious mansion to spawn freaky monsters. Unleash these powerful minions and send them into town to go head-to-head with your rivals to capture townhouses, battle enemies, avoid angry mobs and seize control! Challenge your friends through Game Center and Pass & Play, or play single player in the Haunted Hollow that has everyone quivering. We dare you.

) runs on iPad & iPhone.

GET IT NOW FOR FREE

 
Tiny Monsters – Price : FREE – Publisher –

TinyCo

 (Can you find the Legendary monster?Hatch, raise, and breed mysterious elemental creatures in Tiny Monsters by TinyCo! Collect TONS of rare and adorable monsters! Feed and care for your monsters until they EVOLVE! Breed RARE hybrid monsters. Enjoy beautiful hi-res artwork and JAW-DROPPING animation. COMPLETE your magical monster collection!

) runs on iPad & iPhone.

GET IT NOW FOR FREE

 
Red Crow Mysteries Legion – Price : FREE – Publisher –

G5 Entertainment

 (Save mankind from a terrifying fate in this heart-pounding adventure!
Your ability to see other worlds makes you the only person who can win the eternal battle between good and evil. Explore dark and eerie locations to find clues, search for special items and solve tricky puzzles. Pass the ultimate test to prove that you are the only one able to defeat the impending threat and preserve the world as we know it.

) runs on iPad & iPhone.

GET IT NOW FOR FREE

 

MinoMonsters – Price : FREE – Publisher – MinoMonsters Inc (Collect your dream team of monsters and take them to battle! Now with ONLINE MULTIPLAYER. Each monster has its own special skills and personality, choose your team wisely. Collect, raise, and battle your way to greatness in this insanely addictive adventure game!) on iPad & iPhone. GET IT NOW FOR FREE

 
Lynx Lunar Racer – Price : FREE – Publisher –

Unilever Australia Limited

 (Pilot your Lynx Space Academy lunar vehicle through nine zones as you boldly go where no man has gone before. Collect Hero coins on each mission to make upgrades and purchase new vehicles in your quest to leave earth a man and return a hero.

) runs on iPad & iPhone.

GET IT NOW FOR FREE

 

Scrambled. 9 Letters, 1 word – Price : FREE – Publisher – Creative License Digital (Welcome to Scrambled, the game that flexes your mental muscles by unscrambling 9-letter words. Unscramble the word by spinning the letters into the correct order. With over 500 words to unlock and loads of challenges to complete, there are hours of gameplay.) on iPhone & iPad. GET IT NOW FOR FREE

 

Angry Birds Friends – Price : FREE – Publisher – Rovio Entertainment (In this FREE new game, you can use your phone to challenge your Facebook friends for the title of ultimate pig popper and bird flinger! Play in weekly tournaments with your friends and see if you can snag the coveted bronze, silver and gold trophies. Plus, gather daily rewards, send and receive gifts, and brag about your accomplishments! And if you're playing Angry Birds Friends on Facebook, your tournament progress will automatically be updated, so you can continue playing wherever you are!) on iPhone & iPad. GET IT NOW FOR FREE
For The Bargain Hunters – 99c Games
| | |
| --- | --- |
|   | Heads Up! – Price : $0.99 – Publisher – Warner Bros (Heads Up! is the fun and hilarious new game that Ellen DeGeneres plays on her show — and now you can play it with your friends! From naming celebrities, to singing, to silly accents — guess the word on the card on that's on your head from your friends' clues before the timer runs out!) runs on iPhone & iPad. BUY NOW |
|   | Oh My Heroes! – Price : $0.99 – Publisher – Triniti Interactive Limited (Oh My Heroes! is simply fun! Run, jump, hack and slash! Smart teamwork and tactic combinations! Death Match, Team Match and King of the Hill! Long, long ago in a realm far, far away, it was all peace and happy. But one day, the Magic Crystals fall from above,  full of magical energies that can even give people the ability of respawn. Endless battles then began for the control of the Magic Crystal. ) runs on iPad & iPhone. BUY NOW |
|   | Stick Stunt Biker 2 – Price : $0.99 – Publisher – Robert Szeleney (Stick Stunt Biker 2, the sequel to the smash hit Stick Stunt Biker (featured in the game of the year 2011 and 2012 categories) with more than 10 million players is now available! Bike fun and challenging tracks in different beautiful atmospheric locations and unlock various bikes like the chopper, the speed bike or even the hovering future bike. Avoid amazing obstacles while you master the tricky tracks, perform insane stunts and wheelies or relax while riding the chopper through spectacular landscapes.) runs on iPhone & iPad. BUY NOW |
|   | Mind Blitz – Price : $0.99 – Publisher – Reuben's Apps (This isn't your standard matching game. It is a beautifully designed game that has achievements, high scores, penalty cards and power ups. It is your childhood matching game meets action puzzler. Work your way through levels unlocking achievements and gaining power up points to purchase power up cards to assist you in the levels. Game Center support for High Score and Achievements.) runs on iPhone & iPad. BUY NOW |
For The Millionaires – All games over $0.99
 

MasterAbbott's over 99c Pick Of The Week!

Steve Jackson's Sorcery! – Price : $4.99  – Publisher – Inkle (From legendary designer Steve Jackson, co-founder of Lionhead Studios (with Peter Molyneux), and Fighting Fantasy and Games Workshop (with Ian Livingstone); and inkle, the studio behind the award-winning, App Store featured Frankenstein, Sorcery! is an interactive adventure like never before. The app uses inklewriter technology to tell your journey in real-time, shaping the story around your choices. The text itself changes based on how you play and what you do, and in combat, the action is description on the fly based on how you play.) runs on iPhone & iPad. BUY NOW

CHECK OUT OUR REVIEW FOR SORCERY! HERE

 

Star Command – Price : $2.99  – Publisher – Star Command (Brought to you in beautiful HD pixelated glory, Star Command brings to life the challenges and joys of managing a starship. Upgrade your ship, get out into the unknown and watch your crew die grizzly deaths all at your command. Strange and exotic alien civilizations await you at every turn. Manage each of your ships roles, focusing on science skills, tactical combat and ship engineering. Prevent alien invaders from taking over your ship and causing massive amounts of damage with sentry guns. Revive dying crew members with new rooms! And don't forget that your decisions matter – an enemy made early could come back to haunt you later.) runs on iPhone & iPad. BUY NOW

 
Eclipse: New Dawn for the Galaxy – Price : $7.49 – Publisher –

Big Daddy's Creations

 (Alliances are shattering, and hasty diplomatic treaties are made in secrecy. A confrontation of the superpowers seems inevitable – only the outcome of the galactic conflict remains to be seen. Which faction will emerge victorious and rule the galaxy?

) runs on iPad.

BUY NOW

 
Zoombies: Animales de la Muerte! – Price : $2.99 – Publisher –

High Voltage Software

 (IT ALL STARTED WITH AN APOCALYPSE! Don Eduardo's Zoo in Little Mexico is in mucho trouble when his animal residents come down with a serious case of Undeath. The only hope of keeping these cute — but gruesome — Zoombies from overrunning the planeta are Marco and Maria, a pair of rowdy schoolkids who find themselves on the most twisted field trip ever! Zoombies is *bloody* simple to play, but muy challenging to master!) runs iPad & iPhone. BUY NOW

Draw Something 2 – Price : $2.99  – Publisher – Zynga (The smash-hit drawing game loved by over 100 million players is remained with all new ways to draw guess and share with friends. Get the premium version of Draw Something 2 and gain access to exciting new features for premium players only.) runs on iPhone & iPad. BUY NOW

 

Paper Titans – Price : $2.99  – Publisher – Blitz Games Studios. (The Paper Titans need your help! The Titans have found themselves cast to the three corners of a mysterious paper world and it's your job to help reunite them! Paper Titans is a charming papercraft-inspired puzzle adventure set across 45 ultra-stylish 3D levels. Fold paper to make new friends, combine abilities to solve puzzles and build vehicles to discover amazing new worlds!) runs on iPhone & iPad. BUY NOW
There you have it folks these games should keep you busy for quite some time well until next week at least. I'll be back next week for another dose of iOS goodness, in the meantime if you would also like to suggest your own suggestions, please feel free to share them in the comments section below or in the iOS forum section on the site here.
Remember kids, Play Hard Or Don't Play At All!