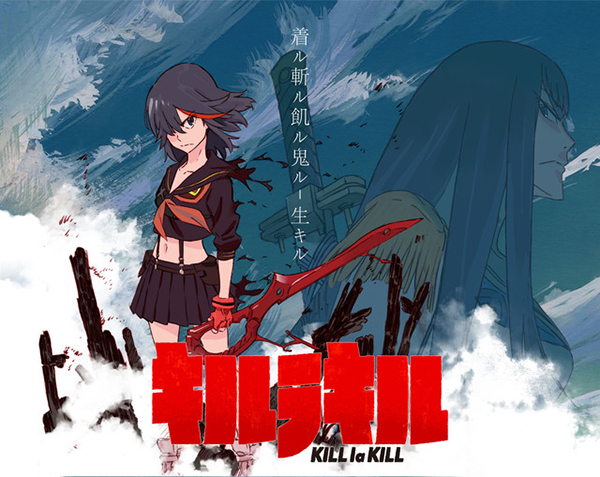 The freshly announced anime project by Trigger, a studio founded by Gurren Lagann director Hiroyuki Imaishi and writer Kazuki Nakashima, is about colliding forces between hotheaded schoolgirl Ryuuko and her stern counterpart, Satsuki.
Now we have a detailed look at the heroines and an insightful interview from Newtype magazine of the men behind this endeavor who've expressed their sometimes conflicting nature into their new work.
Interviewer: What sort of characters are Matoi Ryuuko and Kiryuuin Satsuki?
Imaishi: Ryuuko and Satsuki are developed through their clashing. Initially, Ryuuko was a bit of a gloomy/introverted character, but we gave her a brighter personality because Satsuki is cool and hard as ice.
Nakashima: Both of them are main characters. Their universe has uniforms that match an individual's talents/skills and give them respective powers, and Satsuki is trying to rule the Academy with that uniform's power. Ryuuko resists this movement. It'll be a sculptured drama centered around both of them.
Interviewer: I see that you two make a great team. What do you like about working with each other?
Imaishi: Ever since TTGL (Gurren Lagann), Nakashima balances out my irresponsible and childish impulses with adult rationale and reason, while keeping things fun. Not only that, the "fun" approach fits me very well. So the work is made really easy. I'd like to work with Nakashima loads more in the future, if he doesn't mind.
Nakashima: With Imaishi, I can go full throttle with my style. And the folks at Trigger can make that into an excellent work. It's really too much fun.