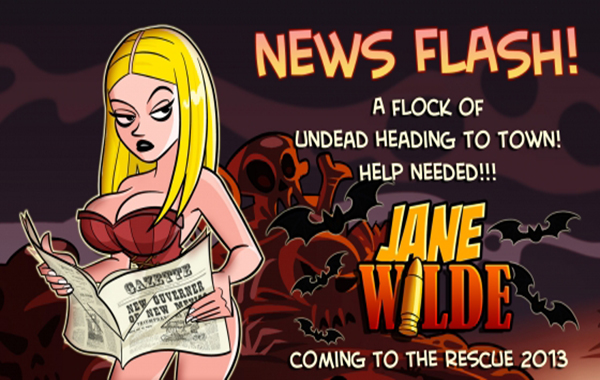 LevelBit today announced the upcoming launch of Jane Wilde for iOS and Android.The game will be free-to-play upon launch. The game will launch on May 23rd on iOS and about a week after that for Android.
In this side-scrolling shooter, Jane Wilde takes the weight of the civilized world upon her rather large chest to exterminate vampires and undead creatures that have infested the ghost towns peppering the West and Deep South.
Jane Wilde features hours of undead killing with over 30 levels, an arsenal of upgradeable weapon and special power-ups. With an array of guns and artillery at her disposal, this busty saviour of the undead-free world must shoot, blast and bomb her way through hoards of monsters to rid the West of undead vermin.
Milos Zivanovic Managing Director from LevelBit said :
At LevelBit the whole team are huge fans of the cartoon horror genre, and we wanted to make an over-the-top, blood spattered, horrorific shooter that is still light and cartoony and overall lots of fun. Jane Wilde hits that sweet spot, with tons of vampires and undead monsters to blow apart at will.
Once she completes a level Jane can use her gold to buy weapon upgrades and ammo, and she'll need every bit to defeat the bigger, tougher boss monsters at the end of each chapter. Jane Wilde is available on the iTunes App Store on May 23rd and on Google Play for Android on May 30th.
The trailer can be seen below, and further screenshots can be found here.