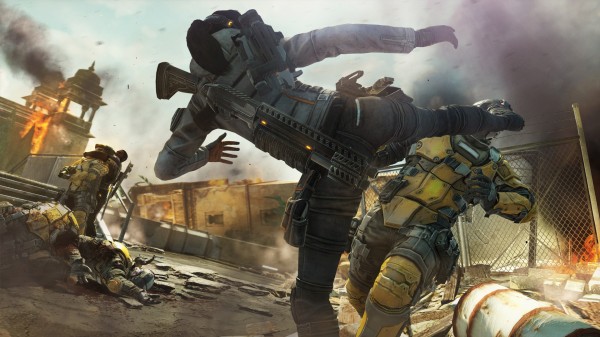 Insomniac Games, developers of classic franchises like Spyro the Dragon, Ratchet & Clank, and Resistance is back with a brand new explosive game called Fuse.
The third person shooter stars four misfits brought together as clean up crew called Overstrike 9. They specialize in cleaning up messes that need a specific skillset that the average janitor just doesn't have, the type that involves neutralizing enemies that shoot back.
The four members come from four wildly different backgrounds: Dalton the mercenary, Naya the assassin, Izzy the hacker, and Jacob detective. Each character carries a special fuse weapon and has access to a unique skill tree. Players are able to traverse the environment, like climbing walls and hanging from ledges, to travel or to gain the tactical advantage in combat
The game can be played alone on the single player campaign or with up to three friends on Xbox Live and PlayStation Network. In single player, gamers can "leap" between characters, allowing them to control the best character for the job. In multiplayer, gamers can play the co-op campaign or fight it out against the hordes in Echelon mode. Echelon mode provides a deadly new twist on the classic horde mode gameplay by givings players a variety of objectives that must be completed. Each character's skill tree and experience is seamlessly carried across all three modes of play.
Read our hands on preview with Fuse and our interview with Insomniac Games CEO Ted Price for more information about Fuse.
Fuse is available now in stores across Australia for PlayStation 3 and Xbox 360. Check out the demo on Xbox Live and PlayStation at Insomniac Games' official site.
"This is a sponsored post but opinions are my own."