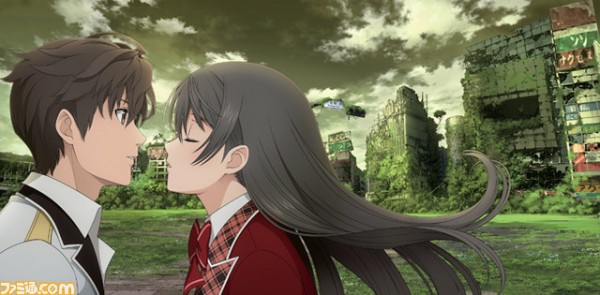 You may recall a game that was brought over to North America last year by XSEED Games that was called Unchained Blades. Well that game was developed by FuRyu and today Famitsu has announced that they are now working on a brand new title for the 3DS and Vita called Exstetra and they have also given us some details about the game's story and characters.
In Exstetra players take the role of Ryoma Narusawa who is a "Prisma" that is destined to save the world after Tokyo is fused with a parallel world called Amasia. To do this, he must defuse the worlds to bring things back to normal and it looks like to do this, he will have to kiss people. You see, according to Famitsu, Ryoma has the ability to absorb energy from enemies which can be used to perform various miracles, including the ability to kiss those close to him to awaken their abilities and fight against their foes.
The three main characters have been announced for the game and we have Ryoma who suffers from amnesia and plays the hero role, Shiho Inaba who is a seventeen year old high school student that wants to become an idol until the worlds are fused together. When this occurs she kisses Ryoma to become a Prisma Knight. The third main character is an up-beat young man named Masaru Mitarai who also fights alongside Ryoma as a Prisma Knight. Currently Exstetra is set to be released in Japan on October 17th and it will be interesting to see if this heads to the West in any form.