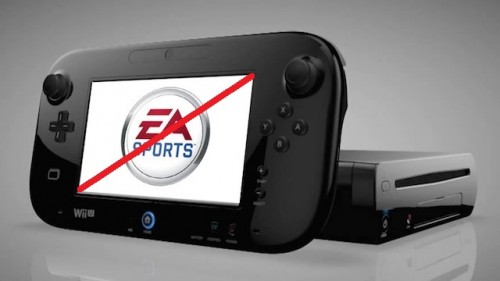 With so little in the way of new game announcements for the Nintendo Wii U, it is even more disappointing for owners and fans of the console to hear that EA has seemingly dropped support for the console with no games currently in development.
While the company hasn't ruled out developing titles in the future, for now this would spell the end of sports games as we know it on Nintendo home consoles as well as franchises like Mass Effect, Dead Space (3rd installment never made it to Wii U) and Crysis. For the first time since 1991, a port of Madden will not be seen on any Nintendo home consoles which is very sad news and looking to be a trend repeated by other big name franchises.
Why then are EA so hell bent on keeping their games away from the Wii U? EA Sports senior software engineer Bob Summerwill can be quoted via his Twitter that, "Nintendo are still operating like its 1990" and "The Wii U is crap". He remarks that all the other companies have the right focus, going so far as to say that Nintendo should forget about their own hardware and should be offering Mario and Zelda to Sony or Microsoft as exclusive series.
Personally, despite the fact that the Wii U clearly is not heading down the right path and Sega had some success doing this in the past, allowing rival companies access to such exclusives is one of the most ridiculous notions I've ever heard. Any self respecting gamer wouldn't even look at Mario or Zelda on a non-Nintendo console if it was given away for free.
One can only wonder if other developers will follow suit after EA, deeming the Wii U to be a dead console and focusing all of their energies on the PS4 and next gen Microsoft console. We can only hope Nintendo can pull through and not follow in the footsteps of the Sega Dreamcast, which many argue also found itself invalidated by EA's removal of sports games from its lineup.