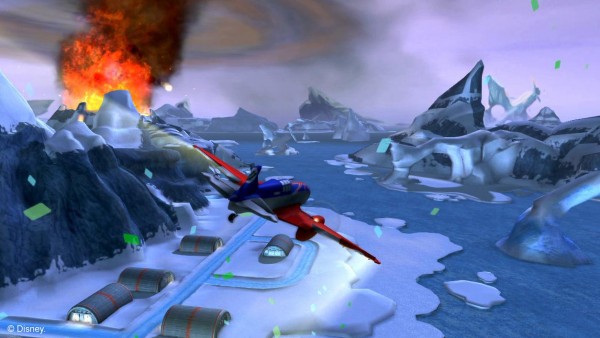 I remember years ago when Cars first came into theaters, I was curious of just how far Disney would take the brand and if we would start getting animated feature films about grass, buildings, or planes. Well, that has been answered, as Disney's Planes hits theaters this September, and it is voiced by none other than Dane Cook, who is known for his "comedy" and other films such as Employee of the Month.
Now, the good news out of all of this is that we are going to be getting a video game adaptation that is packed full of features. Here are the first details:
From above the world of "Cars", "Disney's Planes" video game takes players on a high-flying, action-packed, fun-filled adventure with Dusty, a big-hearted, speed-loving crop duster who is voiced by actor and comedian Dane Cook.  Players will take to the skies with Dusty and other characters, including Ishani, voiced by actress Priyanka Chopra; Echo, voiced by actor Anthony Edwards; and Bravo, voiced by actor Val Kilmer, as they embark on global missions, air races and grand adventures around the world.

In "Disney's Planes" video game, players travel through breathtaking environments and play as one of 10 cast of characters on console and one of 6 cast of characters on handheld in either single-player on all platforms, or race against one another in two-player drop-in and drop-out gameplay on console.  Players will roll, turn and loop their way through mission-based objectives in exciting modes of play including a narrative based Story mode and a score-based mini-game that challenges the player's precision flying skills called Balloon Pop. The exploratory Free Flight mode and racing based Air Rallies mode are exclusive to the consoles and the objective achieving Challenge mode is only offered via the handheld platforms.
You know what I smell? Potential. I love Diddy Kong Racing, and this is already giving me that kind of vibe. Disney have proven themselves as capable of making decent licensed romps in the past, and if they pull off a winner here, I might just go watch the film in celebration of their efforts as we need more adventure/racing games in the sky. You can expect Disney's planes to hit all platforms this fall.