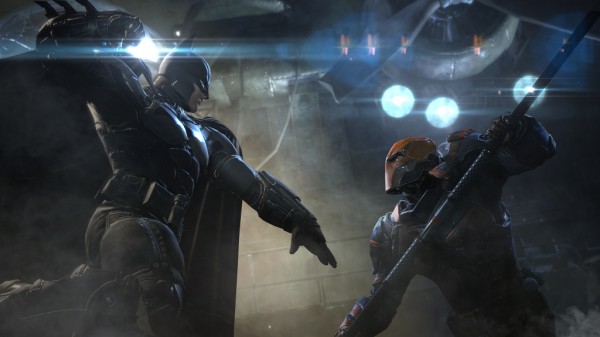 A raw, unrefined Batman in Batman: Arkham Origins can still hang with the world's best assassins. In the case of this teaser trailer, we see Batman fight 'the Terminator' Deathstroke, who featured opposite Bats on the back cover of the reveal issue of GameInformer magazine.
Although he is a feature opponent, Slade Wilson is not alone; Batman will face a group of bad guys who want to collect the biggest bounty of them all – his mask…or his head, either way, the mantle of the caped crusader is in danger figuratively and literally in this prequel to the amazing Arkham Asylum by Rocksteady.
You can view the teaser embedded below. It seems the mercenary has brought all of his tools of the trade to this fight; his sword, guns and staff. But this clip is only whetting the apetite for the full-length trailer, which will be released on May 20th. Keep it locked to Capsule Computers as we'll be putting it up A.S.A.P. once it's available.