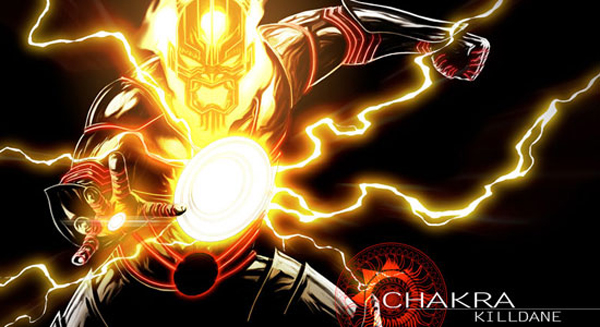 At this year's Free Comic Book Day event I managed to stumble upon an upcoming series that is the newest brainchild of a certain infamous comic-book genius. Stan Lee the acclaimed creator of Marvel's Spider-Man, Fantastic Four and the Avengers  seems to be now more than ever working on all cylinders. after coming up with Verticus for iOS and his cameo appearance in the Amazing Spider-Man Video Game, Stan is back to what he does best: writing stories, creating heroes and the worlds they protect. Now, we are privileged to meet his newest hero: Chakra the Invincible.
The story centers around 14 year old Raju Raj, a technological genius, who since the death of his parents lives with his older brother in Mumbai. Raju in his determination to unlock the secrets of human potential, develops a special suit that activates the mystical yoga-like powers of chakra  in his body giving him him a variety of special abilities. Whenever he is called upon to help those in need, Raju transforms into Chakra the Invincible. For you anime-fans out there, Chakra is kind of a combination between Goku and Naruto – he can fly, shoot energy blasts from his hands, enhance his own strength, and even generate force-fields to protect himself and others.
The series is a joint effort by Lee's own POW! Entertainment and Indian comic book distributor Graphic India. Unlike the majority of Stan the Man's library of creations, Chakra the Invincible isn't aimed at a western audience and instead is targeted towards young readers in India. Don't be alarmed however, despite GI being an Indian Company producing a book targeted to an Indian Audience, Chakra the Invincible will still be published in English and available in a comic-book store near you.
Stan Lee, in a conversation with Graphic India, which appears in the Free Comic Book Day preview issue of Chakra the Invincible, stated that his motivation for creating an Indian superhero was that;
The project came about when my good friends at Graphic India, Sharad Devarajan and Gotham Chopra, told me they were establishing a business to create new characters and heroes from India. I thought it would be exciting to work with them, bringing my own style of superhero storytelling to India and collaborating with their amazing artists to develop a brand new Indian Character.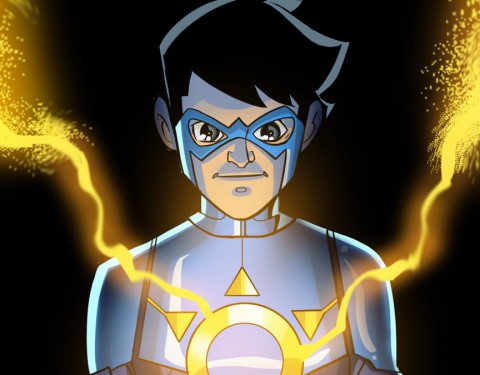 The company tagline for Graphic India is "The Power of Story" and it looks like Chakra will fit this mold perfectly. In the first issue we see Chakra as an inexperienced superhero, who while being eager to help those in need is also still learning the true extent of his powers and how to properly control them. Like many of Stan Lee's other heroes, it looks like young Raju will go through a lot of personal development as the story progresses.
The comic is being beautifully drawn in an art style that reflects today's cartoon animation styles by renowned Indian artist Jeevan Kang (Spider-Man: India). Kang's simple, beautiful art combined with Graphic India's strong emphasis on creating fantastic in-depth stories, and Stan Lee's honed craft of unique superhero storytelling all look like they will meld together in a winning combination.
For those who want to give Chakra the Invincible a look for themselves, Graphic India has made the Free Comic Book Day issue available online to read at their website. While there, be sure to take a look at some of GI's other franchises such as "Ramayan 3392 AD" and "Devi" that also have free previews available.
Stay tuned to Capsule Computers for more information about Chakra the Invincible as it becomes available, and until then…
"Standing for justice, compassion, and inspiration! Raju Ra is… CHAKRA THE INVINCIBLE!"
– Narrator, Chakra the Invincible (2013)