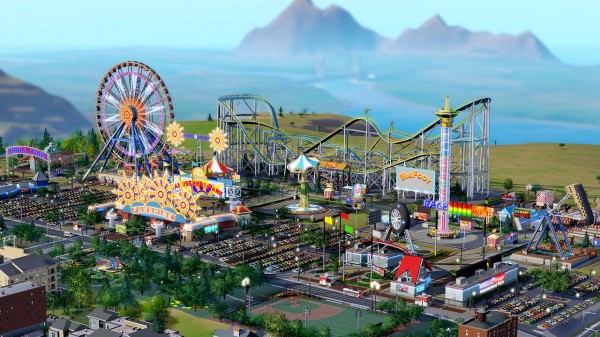 EA knows that everybody loves theme parks. Okay, maybe not everybody…I'm not exactly fond of roller-coasters. But, your Sims love them, and now you can fulfil their dreams of having an amusement park in their city!
The Amusement Park content pack has been released for SimCity and enables players to build the ultimate in innocent fun, with three unique entrances and nine different rides/attractions including the Bigfoot Roller-Coaster, Ferris Wheel, Carousel, Go-Kart Speedway and more. Successfully managing the park will turn your city into the tourist destination. Along with all these additions,  there are five new missions to play through within the Tourism specialisation tree. Checked out the new Edgewater Bay map provided with Update 4.0? Maybe it would be the ideal location for such a magical place.
You can purchase this digital expansion at an early Mayoral special price of $9.99 right here.