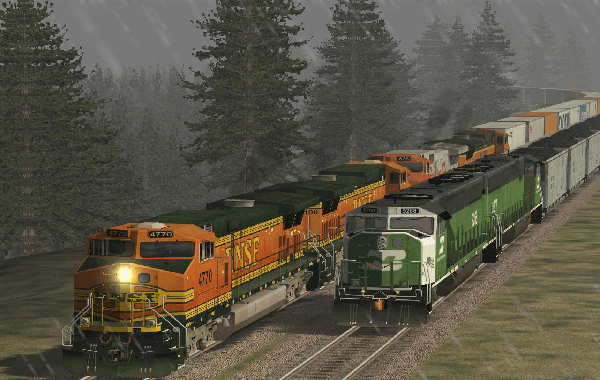 Featuring 152 miles of stunning Montana landscape reaching from Whitefish to Shelby and a 13 mile branch line to Kalispell,  the Marias Pass expansion pack will be sure to please any train enthusiast.
The new expansion made available by RailSimulator.com features eight scenarios test players against the unique challenges of moving heavy freight through the varied terrain and treacherous weather.
Key features of the Marias Pass Route Expansion include:
Full 152 mile Marias Pass route from Shelby to Whitefish
13 mile branch line to Kalispell
Spectacularly recreated mountainous scenery, bridges, pine forests, snow sheds and famous landmarks including silo 'Dalek*' and Cut Bank Penguin
Multi-aspect and junction color light signalling
GE ES44DC in BNSF livery and EMD SW1500 Switcher in BN livery
New 50ft box car and lumbar car in BNSF livery
Several reworked freight cars in BNSF and BN liveries
Scenarios for the route
Full Quick Drive compatibility
Download size: 1,500mb
The latest add on made available by RailSimulator.com can be downloaded from Steam and for more information you can check out www.railsimulator.com. A trailer showcasing the DLC can be viewed below.