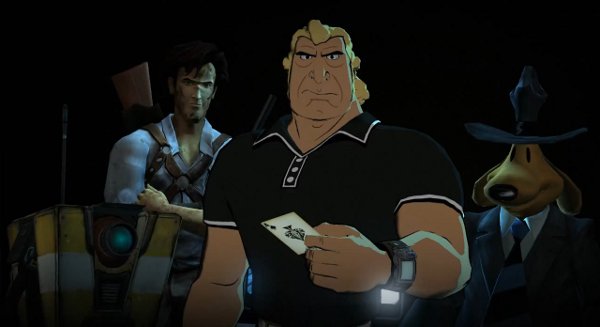 Those that remember Poker Night at the Inventory will probably remember most how it slammed 4 completely different properties into one game based around a club under a warehouse filled with video games. Telltale Games seems to be at it again with 4 new card players and whole host of other cameos with Telltale Games' Poker Night 2.
The opponent players in the new game can be seen above, and as if they need any introduction are from left to right; Claptrap from Borderlands, Ashley J. Williams from Army of Darkness, Brock Samson from Venture Bros., and Sam from Sam and Max. Plus, to keep it from being an all male cast GLaDOS from Portal will be present as well ensure a fair game, most likely with the threat of deadly neurotoxin.
This time around players can expect a variety of "Bounty Unlocks" for other games for achieving things in Poker Night 2, though it gets a little complicated as the game will release for PC and Mac from Steam, XBLA, and PSN, so to clear up what is available for which they've provided a helpful page on their website HERE to keep it straight forward.
Telltale Games' Poker Night 2 will be released in late April for Steam, XBLA, and PSN, but players can watch the trailer embedded below now.