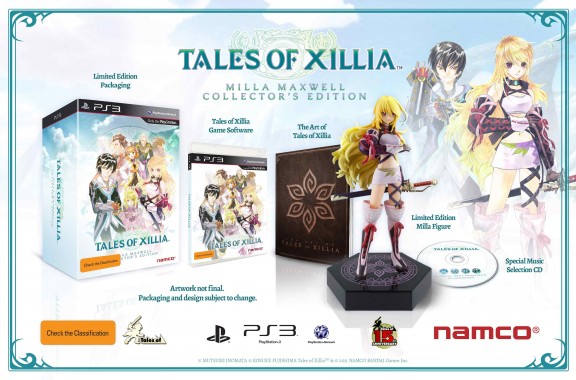 Namco Bandai Games have today revealed details of the special Collector's Edition for upcoming installment in the legendary Tales Of RPG franchise, Tales of Xillia.
They have confirmed that the Tales of Xillia: Collector's Edition will feature a limited edition Milla Maxwell figure, a high quality hard-cover artbook, the original soundtrack along with a copy of the Tales of Xillia game itself. This special Collector's Edition will be extremely limited with only 10,000 copies being distributed worldwide. If you pre-order the special Collector's Edition you will also receive special costumes for Jude and Milla as well as an exclusive custom PS3 theme. There is also a Day One Edition that includes everything of the Collector's Edition excluding the Milla Maxwell figure.
Tales of Xillia will be released in America on the 6th of August and Australia on the 9th of August. You can check the official website here for more information.