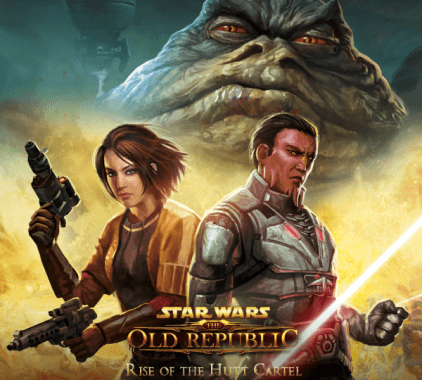 Attention all Bounty Hunters, Troopers, Smugglers, Agents, Jedi and Sith! The first expansion pack for Star Wars The Old Republic has officially gone live! While the public access date for Rise of the Hutt Cartel is still slated for April 14th, any player who placed a pre-order down on the digital expansion prior to January 7 this year will receive the early access to the content starting today, giving all pre-order players five days in which to get ahead of the crowd. With this new expansion comes a whole new story for both Republic and Imperial players to experience, centred around the Hutts vying to become a third military superpower in the galaxy. The expansion has also brought the level cap up to 55, meaning a whole new range of powers and abilities are now accessible for high level characters.
In addition to the core content, early access players will also be happy to note a few special bonuses, which they should find in their character mailboxes, namely: A new Makrin Seedling pet; the Dr. Oggurobb Hutt Holostatue; and lastly an exclusive character title "Scourge of the Hutts." Game update 2.0 will officially update all players with new content, but to get the most out of it, players are encouraged to secure a digital version of the expansion pack to get the full experience.
For those who missed out on the early access, don't fret all too much. Rise of the Hutt Cartel will be made publicly available on April 14th. Check out the trailer as well below!
To pre-order Rise of the Hutt Cartel, please visit www.StarWarsTheOldRepublic.com/RiseoftheHuttCartel. Stay connected to www.StarWarsTheOldRepublic.com for more details.