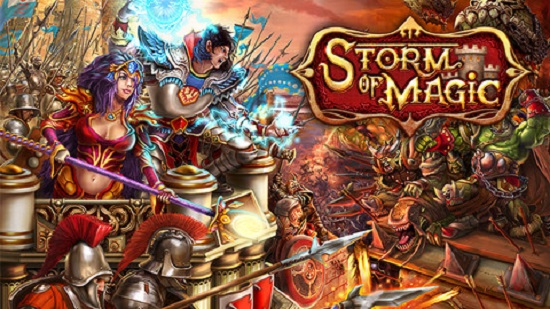 Russian mobile games developer Shamrock Games announced the launch of its new strategy tower defense game Storm of Magic, available for free on the iPhone and iPad in multiple languages.
Storm of Magic hosts an exciting story about the glorious kingdom of Londerol, set in a fantasy world with amazing landscapes and magnificent tower and magic spells. Storm of Magic allows players to challenge the legions of the damned in dozens of battles in campaign mode, compete with friends and other players in survival mode and unlock achievements that allow fans to discover the fascinating chapters in the chronicles of Londerol.
Game features include:
Campaign mode with three levels of difficulty: 14 perfectly balanced levels of fierce battles with crowds of invaders.
Survival: 4 unique maps on which you must only try to survive while being attacked by countless hordes of ruthless enemies.
8 types of magical towers, 2 super towers (a Dwarven Tower and a Hell Tower) and 5 types of elemental spells.
Over 25 types of land and air enemies modeled in 3D (Orcs, demons, monsters, machines etc.).
An option to reset spell upgrades to embark on a new strategy.
Vitali Wiegel, Director of Shamrock Games had this to say about the companies new game:
"We are excited for all tower defense fans to finally have the great opportunity to dive into the wonderful fantasy world of Storm of Magic on their iPhone or iPad. You'll be definitely challenged to devise cunning tactics and strategies. Use Magic Crystals received as a reward to strengthen your towers and magic in the Mages' Library. But avoid upgrading any single tower or magic only. When completing a mission, try to find the most effective combination of towers available and use magic skillfully. Enjoy dozens of hours of engaging gameplay!"
To download the free app you can visit the App Store. Also make sure to visit the Shamrock Games website for details on all their other game releases.