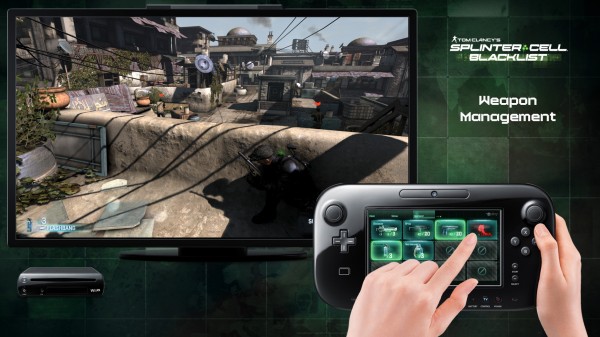 Just a scant two weeks ago Ubisoft let gamers know that Splinter Cell: Blacklist would be making its way to the Wii U in addition to Xbox 360, PlayStation 3, and PC, but as we all know developers are always trying to utilize the Wii U's unique GamePad. So, the question on some minds was what all would Splinter Cell: Blacklist use it for?
The pictures show off a few of the controls, a new trailer has been released focused on showing off a few more, as well as in action. While the picture above confirmed being able to quickly select weapons, the trailer also shows off controlling the trirotor drone, controlling Sam Fisher's snake camera, and to mark targets for execution, which seems the most functional over gimmicky.
Players can watch the trailer embedded below to see all of the controls in action. Regardless of which platform they prefer those looking to get their hands on Splinter Cell: Blacklist can do so August 22nd.