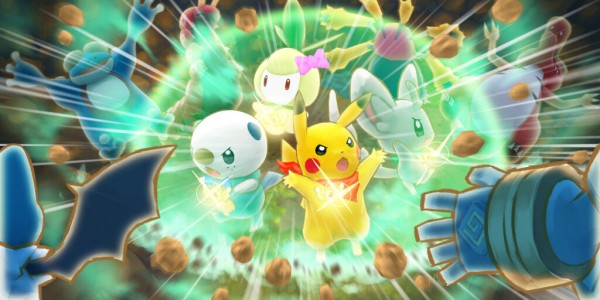 Pokemon Mystery Dungeon: Gates to Infinity, like many of the Pokemon spin-off games, has a bunch of passwords that will unlock a variety of different features in the game. These will range from actual Pokemon to helpful items.
The passwords are entered in the main menu of the game when in the Pokemon Paradise. They will automatically unlock on input. They are as follows:
All Protect Orb – 2C3YJ43F


Gold Scope – KQM4W3H2

Joy Ribbon – P326J5WX

Reviver Seeds – MFN89K9X

Reviver Seeds – XN83N4W6

Reviver Seeds – KQ5ST45X

Joy Seed – JTN34N92

Golden Seed – 5PMHM339

Fire Gift – W3KCMQMP

Gold Ribbon – 7F3CJ9FP

Sitrus Berry – NT6MYXRQ

PP Manual – 6SM86QY3

Protein – K93YR926

Blue Key – NPWRWH8Q

Iron – 8W7TNK36

Fighting Gift – JMK5MFKS

Psychic Gift – M676YKQN

Oran Berry – 3CMS47R2
There have been a fair few more released for Japanese versions of the game so hopefully we'll be seeing that for the English language games soon. We'll be updating the list as the new codes are released.