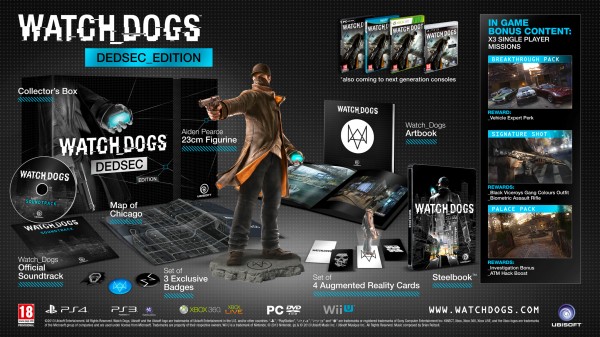 Ubisoft's new IP Watch_Dogs has had much buzz around it since its reveal at E3 last year. Since that time more information has been releasing from securing its release date to this year, to confirmation on next gen consoles, to the last video they released last month. But now new information has hit like a car smashing into a retractable traffic barricade.
The new video gets more personal, but not too personal, with the main character Aiden Pearce letting players get to know him a little and what he's trying to accomplish. The true depth of information doesn't come  until the end where the release date has finally been confirmed as November 19th in North America and November 22nd in Europe. In addition to the release date the trailer shows off the penultimate edition of the game the Dedsec Edition.
Featuring plenty of physical and digital bonuses, the Dedsec Edition includes:
Physical Bonuses

23cm Aiden Pearce Figurine
Steelbook™
DedSec Collector box
Watch_Dogs Artbook: artworks and illustrations that inspired the game
Original soundtrack of the game
Watch_Dogs map of Chicago
Set of 4 collectible cards: discover Watch_Dogs iconic characters through augmented reality
Set of 3 exclusive badges

Digital Bonuses

Palace Pack
Signature Shot
Breakthrough Pack
However, the Dedsec Edition isn't the only one detailed today, as three other editions of the game will also be available to those in the UK:
The Vigilante Edition (Only at Game in UK and GameStop in Ireland): Includes physical bonuses of Vigilante Edition Collector Box, Aiden Pearce hat, Aiden Pearce mask, and original soundtrack, but only the Palace Pack digital Bonus.
The Uplay Exclusive Edition (Only at the Uplay website): Includes only has the one physical bonus of an exclusive Steelbok™, but will include all three digital bonuses of Palace Pack, Signature Shot, and Breakthrough Pack.
The Special Edition (Only at Game in UK): Includes only the digital bonus of the Breakthrough Pack.
Players can check out the different editions by clicking on the images in the gallery below and watch the new Watch_Dogs trailer embedded below that. Watch_Dogs will be releasing for Xbox 360, PlayStation 3, PlayStation 4, Wii U, and PC on November 19th in North America and November 22nd in Europe.