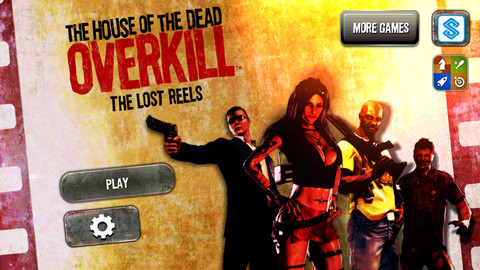 Welcome back for this week's iOS Game Suggestions. If you missed last week's, or are new to the suggestions, click on the link below and check out what cool games you should be picking up for your iOS device along with the introduction on how the suggestions work. (suggestions 1 has how it all works)
MasterAbbott's iOS Game Suggestions
A great week on iTunes! As always, it started slow and but ended with a bang! There are many must-buy games this week in all departments, FREE, 99c and over 99c. This week I've suggested a total of 25 great quality titles. Make sure you check them all especially… The House Of The Dead, Runaway, LEGO Batman, Dark Quest, Random Heroes 2, Gargoyle Ruins, Transformers Legends, Iron Man 3  just to name a few.
Break down below :
9 – FREE Games
6 – $0.99c Games
10 – Over $0.99c Games
As always for this week's suggestions are all new titles that you should take a look at and consider spending your hard earned iTunes cash / time on.  Well the Free games just below certainly should all be given a shot as they won't cost you anything!
For The Cheapskates – FREE GAMES
 

MASTERABBOTT'S FREE GAME PICK OF THE WEEK!

Iron Man 3 – The Official Game – Price : FREE – Publisher – Gameloft (Find and power up Iron Man's suits in a great game at www.IronMan3.com.au for your chance to win awesome prizes including a tablet, an iPod touch and in-game credit for the Iron Man 3 game. Have you found MK17 – HEARTBREAKER (Artillery Level RT Suit) yet? Need another clue? 'The southernmost tip of the Australian mainland'.) on iPad & iPhone. GET IT NOW FOR FREE

 
TRANSFORMERS Legends – Price : FREE – Publisher –

Mobage

 (Customize and power up your TRANSFORMERS team with credits, cards, and battles. Defend the world with the AUTOBOTS or destroy it with the DECEPTICONS. Engage friends and foes in 9 v 9 battles with bonus attacks. Hundreds of TRANSFORMERS characters and items to discover, recruit and collect. Regular events to win limited-edition TRANSFORMERS characters!

) runs on iPad & iPhone.

GET IT NOW FOR FREE

 
Youda Survivor 2 – Price : FREE – Publisher –

G5 Entertainment

 (Return to the island of adventure and save your befriended tribe once again in this impressive sequel to Youda Survivor! The tribe's shaman needs your help to stop the danger lurking over the entire planet. Put your survival skills and perseverance to the test like never before. Meet exotic creatures, learn new potion recipes and fight off mighty pirates. Most importantly, help the tribe retrieve a sacred talisman that's missing and reunite the two gems they use for magic rituals. Unleash your adventurous spirit and become a hero in this spectacular time management challenge!

) runs on iPad & iPhone.

GET IT NOW FOR FREE

 
Storm Of Magic – Price : FREE – Publisher –

Shamrock Games

 (A great upheaval is coming to the wonderful, magical world of Londerol. The hour draws near when the prophecy will be fulfilled and legions of darkness will pour forth into this bright world. But the gracious gods give humanity a final chance. Heroes emerge from among the people, ready to fearlessly defend what is good and just. Magister of Magic Farian and his student Alex set out on a long and dangerous journey to gain knowledge, power and, of course, new friends.

) runs on iPad & iPhone.

GET IT NOW FOR FREE

 
Smile Plants – Price : FREE – Publisher –

Gamevil

 (Escape to your very own relaxing garden in Smile Plants. Play interactive match 3 puzzles and solve your way to being the best garden keeper. Water, sing, play, feed, and give sunlight to your plants by matching 3 of a kind. See your plants grow as they mature from cute, little seeds to full, smiling plants. With over 30 different plants to collect and customize, you won't help but fall in love with your garden. Play with friends and visit their gardens through Facebook. Or compete with them as you see whose beanstalk can grow the longest! Fall back in love with nature!

) runs on iPad & iPhone.

GET IT NOW FOR FREE

 

Amazing Studly Strikes – Price : FREE – Publisher – Inzen Studio (Scale the monumental. Dodge the unthinkable. Draw the cries of millions.Become a Game Show Warrior! Earn your right to entertain! The plan is simple. Climb to top. Smash anything that gets in your way. All you gotta do, is tap your screen (really, really fast). Easy!) on iPad & iPhone. GET IT NOW FOR FREE

 
Kingdom & Dragons – Price : FREE – Publisher –

Gamevil

 (Dive into the fantasy tale of Kingdom and Dragon! Build your kingdom and level up your hero in this action RPG adventure! Kingdom and Dragon is a fantasy action RPG featuring elements of kingdom building. Develop your small village into a bustling kingdom. Select your hero – Templar, Bowmaster, or Enchantress, and battle enemies that threaten your kingdom. Optimize your skill tree and forge mythical garments to maximize your power. Your fantasy adventure begins here!

) runs on iPad & iPhone.

GET IT NOW FOR FREE

 

Deep Sea Deli – Price : FREE – Publisher – PlayFirst (Serve up some subaquatic fun (and sandwiches) in this brand new FREE puzzle match game! Narly was just your ordinary narwhal until deli ingredients rained down from above and changed his life forever. Now, armed with nothing but a copy of Deli-rious for Delis and a newfound sense of purpose, Narly is taking the underwater deli world by storm.) on iPhone & iPad. GET IT NOW FOR FREE

 

Robot Unicorn Attack 2 – Price : FREE – Publisher – Adult Swim (Choose between Team Rainbow or Team Inferno and compete on a unique level every day for prizes. Race through 2 worlds at war, one of Rainbows and Harmony and one of Ice and Wonder. Build and customize your very own unicorn, selecting from different bodies, manes, wings, horns, trails and more. Unlock and arm yourself with 12 different boost abilities, including "Rainbow Savior" and "Gallow's Gallop". Achieve both personal and community goals, updated daily. Battle mighty giants and dash through their dangerous Solar Beams) on iPhone & iPad. GET IT NOW FOR FREE
For The Bargain Hunters – 99c Games
 

Gargoyle Ruins – Price : $0.99 – Publisher – Game Stew (Step into the boots of a true hero in Gargoyle Ruins, the prequel to Game Stew's first title and TouchArcade's Arcade 2012 Game Of The Year–Tower of Fortune! With your companion by your side it is your hero's duty to save a wealthy kingdom where girls are kidnapped by gargoyles once a year. Solve the mystery and defeat the evil forces in this retro VFD tabletop arcade game inspired by the early Game & Watch games!) runs on iPad & iPhone. BUY NOW

 

Madmonster – Price : $0.99 – Publisher – Chillingo (They came, they saw, they destroyed.The menacing Wolfy and his gang of monsters are wreaking havoc everywhere they go. Help them tear up each city, rip through military defenses, knock down buildings and take to the skies to cause a ruckus among the stars. The more chaos you cause, the greater the rewards. Show off your destructive side in this anarchic mobile monster mash.) runs on iPhone & iPad. BUY NOW

 

Blastpoints – Price : $0.99 – Publisher – Checkbox Studios (BlastPoints provides the thrill and excitement of space combat on a mobile device. Powered by the award-winning Unreal Engine 3, players control a fully customisable fighter as they dogfight across the galaxy.) runs on iPhone & iPad. BUY NOW

 
Random Heroes 2 – Price : $0.99 – Publisher –

Ravenous Games

 (Sequel to the amazing Random Heroes; now with more guns, explosions and crazy characters! From the creators of the award winning platform game League of Evil comes Ravenous Games' newest game Random Heroes 2! A group of unlikely heroes are set out to save the world. Blast your way through these invaders in this action platformer! It's time to eradicate the alien threat once and for all in Random Heroes 2!) runs on iPhone & iPad.

BUY NOW

 

Drop The Chicken – Price : $0.99 – Publisher – Sharp Creative Agency (Drop The Chicken is a fun filled, addictive and challenging puzzle game. Our hero 'Chuck The Chicken', after an exceptional career as a circus acrobat, shot himself out of a canon and escaped into a nearby farm.) runs on iPhone & iPad. BUY NOW 

 
Microbots  – Price : $0.99 – Publisher –

Sauce Digital Limited

 (Danger, a Microbot infestation is imminent! Test your skill, strategy and speed in this great arcade puzzle game that will keep you addicted for hours. You are Digital Pest Control, and it's up to you to eradicate the Microbot plague. They might look cute, but left alone they will infest the level. It's your job to guide the little vermin to the targets, where they will be blasted by your Exterminator-bot.) runs on iPhone & iPad.

BUY NOW
For The Millionaires – All games over $0.99
 

MasterAbbott's over 99c Pick Of The Week!

House Of The Dead: Overkill – The Lost Reels – Price : $4.99  – Publisher – SEGA (You thought it was over… but we've found the Lost Reels. Join the original cast and blast your way through remixed worlds from The House of the Dead Overkill™. Play in Survival or Story Mode and mow down waves of infected, blood-thirsty mutants in this b-style arcade shooter. Experience 3 goregasmic worlds full of carnage in Story Mode. In Papa's Palace of Pain, Ballistic Trauma, and Naked Terror, you'll be screaming 'til your last breath.) runs on iPhone & iPad. BUY NOW

 

RPG Silver Nornir – Price : $2.99  – Publisher – Kairosoft (Azatoth, the origin of chaos, has destroyed the world twice in the past. The only survivors from the last world are the Peacekeeper, the Keeper of Time, and the Goddess… A new world is born after what seems like an eternity of time. The world enters its 3rd Age. History seems to repeat itself as the people live the same lives as their counterparts in previous ages. The Mistral Year is 1286. The world draws near its demise for a third time, and each milestone in history intertwines to lead to its doomed fate.) runs on iPhone & iPad. BUY NOW

Dark Quest – Price : $1.99 – Publisher –

Brain Seal

 (Dark Quest is a turn based fantasy role playing adventure game where players assume the role of a mighty barbarian on his epic quest to destroy the forces of the evil sorcerer and save the land from evil.

) runs on iPad.

BUY NOW

 
Beat The Melody – Price : $3.99 – Publisher –

Shortbreak Studios

 (Music geeks from land of Chopin introduce simple game that can teach anyone how to enjoy music more! Fun for all the family… and future tenors, divas & rock stars!) runs iPad & iPhone. BUY NOW
 

LEGO Batman DC Super Heroes – Price : $5.49  – Publisher – Warner Bros. (Legends Unite! Batman and Robin join forces with other famous DC super heroes including Superman, Wonder Woman, Green Lantern and more to stop the notorious villains Lex Luthor and The Joker from destroying Gotham City. Batman fans everywhere will enjoy this original story that's filled with classic LEGO videogame action and humor as players fight to put the bad guys back behind bars!) runs on iPhone & iPad. BUY NOW

 

Touch Hockey Ultimate HD – Price : $2.99  – Publisher – FlipSide5. (Touch Hockey Ultimate HD is the latest edition in the blockbuster Touch Hockey franchise. Choose from 10 tables and over 20 paddles! Compete for the highest score on each table! Unlimited Online Plays!
Near-by Play over Wifi or Bluetooth!) runs on iPhone & iPad. BUY NOW

 

Max's Pirate Planet – A Board Game Adventure – Price : $2.99  – Publisher – Slant Six Games. (Legend has it that Barnacle Bill hid his hoard of gold in the fabled Sunken City, then hid pieces of the map in treasure chests all over the globe. The chests are protected by monsters you have to defeat. Choose from five unique pirate characters and sail your ships around the globe in a race to find the map pieces. If you play with your friends, you can challenge them to a duel with swords and cannons to get ahead in the treasure hunt.) runs on iPhone & iPad. BUY NOW

 
Talisman Prologue HD – Price : $5.49 – Publisher –

Thumbstar Games

 (The legend begins with a single-player series of adventures designed to invite both veterans and newcomers to explore the land of Talisman. While multiplayer gameplay will be available in upcoming expansions, Talisman Prologue focuses on creating narrative depth through its single-player campaigns. The story unfolds as the player rolls dice to move around the outer, middle, and inner regions of the board.

) runs on iPhone & iPad.

BUY NOW

 
Shiny The Firefly – Price : $1.99 – Publisher –

Headup Games

 (This adorable game, set in the middle of a picturesque garden, has you helping Shiny, the cute little firefly, to find his babies. You'll have to fly, run, hide and defend yourself against a legion of enemies. Stubborn mosquitoes, hungry toads, mischievous plants, sneaky wasps, endlessly long centipedes and lots of other little, dangerous garden dwellers are going to get in your way and make your life difficult.) runs iPad & iPhone. BUY NOW
 
Runaway: A Twist Of Fate- Part 2 – Price : $5.49 – Publisher –

Bulkypix

 (The most famous couple in the history of adventure games is finally coming to iOS devices. Plunge into the depths of a sinister adventure with an overriding element of humor and graphics worthy of the greatest 2D animated movies. For the first time ever in the Runaway series, the adventure has gone for a more balanced gameplay with gamers required to play some chapters as Gina and other chapters as Brian.) runs iPad & iPhone. BUY NOW
There you have it folks these games should keep you busy for quite some time well until next week at least. I'll be back next week for another dose of iOS goodness, in the meantime if you would also like to suggest your own suggestions, please feel free to share them in the comments section below or in the iOS forum section on the site here.
Remember kids, Play Hard Or Don't Play At All!