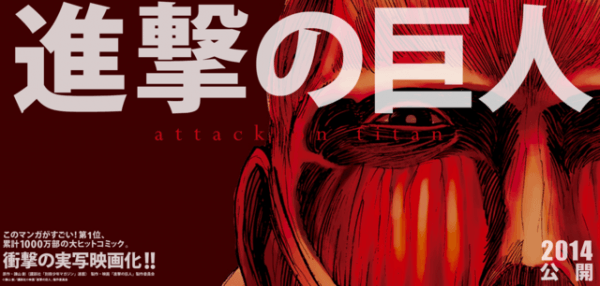 Attack On Titan has blown up in popularity recently with the introduction of the new anime, only in it's third episode, and some awesome merchandise releases people are going absolutely nuts, so much so that people seem to have forgotten about the live-action adaptation that has said to have been in the works. The new project's teaser site has confirmed the rumors of talks from last year and the movie is now pushed back to 2014 but it's still coming! Hopefully nothing happens to stop it's production…once again.
December of last year, Tetsuya Nakashima, director of the critically acclaimed movies Confessions and Kamikaze Girls was taken off of the project. Nakashima was removed due to disagreements between him and the films producers  over the script.
In September 2011, the City of Itako website posted an October 3 casting call for 80 "healthy male and female extras to play the part of people fleeing in panic from giants who suddenly appear in a peaceful shopping district" which was seen as an early reveal of Nakashima's existence when a local business man Tweeted about what was currently being filmed.