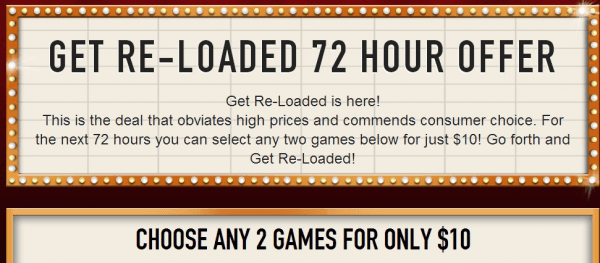 Snow in April! Winter is still hanging on with its fingernails here, so I guess I'm stuck inside a little while longer.
If you only buy one deal this weekend, this is it. Get Games has their major Get Loaded deal this weekend. Buyers can choose any two Steam games from a list for $10.00. The games are Mafia II, Darksiders II, Spec Ops: The Line, Serious Sam 3: BFE, Batman: Arkham City, Deus Ex: Human Revolution, Operation Flashpoint: Dragon Rising, Civilization V, Borderlands: Game of the Year Edition, Just Cause 2, LEGO Harry Potter: Years 5-7, Batman: Arkham Asylum GOTY, Dirt 2, and Quantum Conundrum. I highly recommend avoiding any game regularly priced below $20 as you are saving less than 75%.  From the list of games, I personally would highly recommend purchasing Deus Ex: Human Revolution, Borderlands, Civilization V, and Spec Ops: The Line. They are all fantastic games and excellent prices for the titles. For those who missed last week's THQ bundle, Darksiders II is at a great price, however the PC port leaves a lot to be desired.
The Get Loaded deal isn't the only sale running at Get Games this week. Particularly worthwhile purchases are Hitman Absolution for 75% off  and Company of Heroes 2 preorder for 22% off. I've been playing Hitman Absolution lately and am completely in love with the series all over again. The game is a fantastic example of a PC port done correctly. Hats off to the development team! Be sure to read the full Capsule Computers review of Hitman Absolution.
For today only, Amazon is running an amazing Gold Box deal for Borderlands 2 and the Season Pass. Buying them together will net you a 72% savings at $24.99 or buy them separately for 67% off. Dead Island Game of the Year Edition is 75% off and comes with an $8.00 pre-order credit towards Dead Island Riptide. This is one of the best deals for Dead Island GOTY out there, especially if you plan on pre-ordering Dead Island Riptide at the same time.
GOG.com has an interesting Dungeons & Dragons promo running this weekend. There are ten games on sale and the more titles purchased at once, the larger the savings. Buy all ten games and get them for a mighty 85% . Baldur's Gate, Baldur's Gate 2 Complete, Icewind Dale Complete, Icewind Dale 2 Complete, Forgotten Realms: Demon Stone, The Temple of Elemental Evil, Dungeons and Dragons: Dragonshard, Neverwinter Nights: Diamond Edition, and Planescape: Torment are all on sale. If you are looking for something more modern or you prefer your games DRM free, Omerta: City of Gangsters is also 50% off with the Con Artist DLC thrown in for free.
Gamefly has several titles on sale this week. Most of it is nothing impressive, but The Walking Dead is 60% off. This is the lowest price since it was 65% off several months ago. The game won Capsule Computer and over 80 other publications Game of the Year award for 2012. If you must play only one point and click adventure game in your entire life, this may be the game to play. If you are interested in Victoria II, I highly recommend avoiding Gamefly's 50% off. GamersGate is running a much better deal.
GamersGate is running a Might and Magic themed weekend. Most titles are 50% to 75% off. I highly recommend Might & Magic: Clash of Heroes. It is an extremely accessible strategic puzzle game that serves as a prequel to Might and Magic V. If Might and Magic isn't your thing, there are several other excellent deals going on at GamersGate. Victoria II and its expansion pack A House Divided is on sale for 75% off. Skip on the sprite packs as they are only 55% off. Fallen Enchantress is also on sale for 50% off. It deal is ok but not great as it has gone down to 66% off before.
Greenman Gaming is running a big Focus Home Interactive deal this weekend. Recommended titles are Of Orcs and Men, Wargame: European Escalation, and Blood Bowl Chaos Edition. If you are looking for something less violent, The Next Big Thing is on sale for 75% off. It is a laugh out loud funny game from the creators of the legendary point and click adventure series Runaway. If you want to learn more, read the review I wrote for the iOS edition called Hollywood Monsters.
Steam's Weekend Deals are Omerta: City of Gangsters, the Red Orchestra series and the Tripwire Interactive Bundle. Omerta: City of Gangsters is at its lowest at 50% off. The game fuses turn based strategy RPG elements in the old 1920's gangster theme. If you're willing to forgo Steam for a DRM free download, I recommend purchasing this from GOG.com instead.
Red Orchestra: Ostfront 41-45, its sequel Red Orchestra 2 GOTY and the Red Orchestra 2 Digital Deluxe Upgrade are all 85% off. I strongly recommend skipping the Steam deal and instead opting for the Tripwire Interactive Humble Weekly Sale bundle. Although it is a pay what you want bundle, the price for both Red Orchestras are well above the current average price paid for the bundle. So you can easily beat the average price, get both games and Killing Floor with most of the DLC and buy the Red Orchestra 2 Digital Deluxe Upgrade with the money you save. As a bonus, a part of your money goes to support charity! For those on the fence, Red Orchestra 2 is free to play this weekend. I highly recommend Red Orchestra 2 for those who find the ArmA series to be too complicated, but are looking for something more realistic than Call of Duty and Battlefield. Tripwire's full library including Red Orchestra is on sale, but the Humble Weekly bundle is a much better deal unless you are interested in Dwarves?! and The Ball. Both of those games are pretty fun, but not enough to warrant the almost six extra dollars over the Humble Weekly Bundle's BTA asking price.
Torchlight II is on sale on Steam until April 8th to celebrate the release of Steam Workshop and the GUTS modding tools. The game is already a fantastic hack 'n slash action RPG for a great price. The extensive modding tools are just fantastic. The current mods are slowly being moved to the new format. Adding mods will now be much easier as there are no more compatibility issues to worry about. I highly recommend purchasing Torchlight II if you have not already.
This week's Week Long Deals did not get its own news post this week. However, Towns, Kung Fu Strike – The Warrior's Rise, Pacific Storm Allies, Making History: The Calm & The Storm, 9th Company: Roots of Terror, and DCS A-10c Warthog are all on sale. Although Towns is not technically part of the Early Access program, the game is still considered by many owners to be in early development.