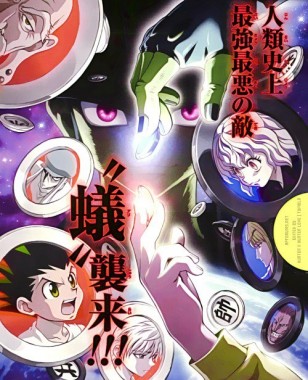 The latest issue of Weekly Shonen Jump magazine featured the recurring Hunter x Center column which has been known to reveal big news for the Hunter x Hunter anime in the past.
This time Hunter x Center revealed several character designs for the upcoming Chimera Ants arc in the Hunter x Hunter anime series as well as some casting announcements.
The featured designs show off a fully coloured Chimera Ant King and several other characters from the Chimera Ants arc both Hunters and Chimera Ants.
Along side the character designs was voice acting details for each character. The following people have been cast for the Chimera Ants arc:
Palm Siberia – Inoue Kikuko (Bakuman's Azuki Miyuki)
Knuckle Bine – Takagi Wataru (Naruto Shippuden's Tobi)
Knov – Miki Shinichirou (Fullmetal Alchemist Brotherhood's Roy Mustang)
Morel McCarnathy – Kusunoki Taiten (Tiger & Bunny's Rock Bison)
Colt – Nojima Hirofumi (Inazuma Eleven's Gouenji Shuya)
Zazan – Nakao Azusa (Rurouni Kenshin's Kasumi)
Meleoron – Tobita Nobuo (Saint Seiya's Aries Shion)
Welfin – Nakamura Daiki (Gurren Lagann's Dayakka)
Neferpitou – Fujimura Ayumi (Aquarion EVOL's Mix)
Meruem – Uchiyama Kouki (Soul Eater's Soul Eater Evans)
Menthuthuyoupi – Tachiki Fumihiko (Bleach's Kenpachi Zaraki)
Shaiapouf – Hatano Wataru (Fairy Tail's Gajeel Redfox)
You can check out the new character designs for the Chimera Ants arc of the Hunter x Hunter in the image gallery below. What do you think of these designs? What do you think of the casting choices? Sound off in the comments section below with your thoughts.
Source: Yaoran