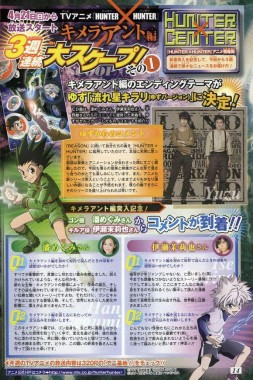 The latest issue of Weekly Shonen Jump magazine has leaked online and along with it news regarding the next ending theme song for the Hunter x Hunter anime series.
It has now been confirmed that YUZU will once again contribute a song for the Hunter x Hunter anime after having previously performed the third ED theme 'Reason'. The latest Weekly Shonen Jump announced the the fourth ED theme will be 'Nagareboshi Kirari' by YUZU.
Hunter x Hunter fans may recognize the song title from the Hunter x Hunter: Phantom Rouge film's OST as the song was previously performed by the voice actress of Gon, Killua and Retsu; Megumi Han, Ise Mariya and Hirano Aya respectively. The song will be rerecorded by YUZU for use as the ED theme for the Chimera Ants arc
You can listen to the original version of 'Nagareboshi Kirari' below. What do you think of YUZU returning to perform another ED theme for the Hunter x Hunter anime series? Let us know in the comments section.