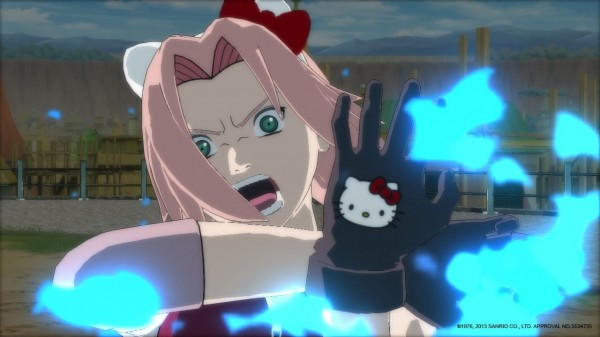 Namco Bandai Games have released yet another DLC costume for Naruto Shippuden: Ultimate Ninja Storm 3, this time for the pink-haired wonder girl herself Sakura.
The new DLC costume for Sakura brings the iconic designs of Hello Kitty into the Naruto Universe in the form of a Hello Kitty costume for Sakura. The Hello Kitty Sakura costume will be part of the upcoming costume pack which is slated to also feature Cowboy, Pirate, Matador, Gondolier, Kimono and German Lederhosen costumes for Naruto, as well as a Napoleon costume for Sasuke.
Namco Bandai have released a brand new trailer for the Hello Kitty Sakura costume which can be seen below. The costume pack will retail for 240 Microsoft points and $2.99 on the PlayStation Store.
You can check out our review of Naruto Shippuden: Ultimate Ninja Storm 3 here.