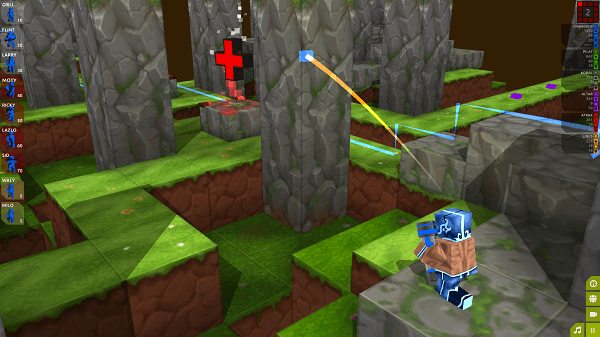 Straight out of Melbourne, Australia, indie studio 3 Sprockets today released Cubemen 2 for download on Steam. Cubemen 2 is the sequel to the award-winning Cubemen, and offers more of the addictive gameplay and unique features that made the first game a cult hit.
Players must use their Cubemen units strategically to defend and attack enemies in a range of game modes, including Capture the Flag, Skirmish, Territory and more. Up to six players can battle in cross-platform, multi-player action with nine specialised unit types, including new units such as path blockers, mines and freeze lightning.
Cubemen 2 also offers a single-player experience with two unique game modes specifically for single-player in addition to the Campaign mode. A built in level editor allows players to create and share their levels with players all around the globe. Levels can be themed in a range of superb skins and are stored locally for easy access even when players are offline.
 The games Director Seon Rozenblum shared a few words on the sequel.
"Our focus on the sequel has been to keep the simplicity that fans loved in the original, whilst adding a slate of new game modes and strategy, taking the user experience to a whole new level… we have listened to our players and fans and believe we have created the best Cubemen sequel possible with many new and unique ideas that makes this the most compelling version yet."
Key Features of Cubemen 2 include:
Customizable unit skins… Play as Cowboys, Knights or even Luchadores!
No static towers. Move your Cubemen around the level and attack or defend at will
Campaign mode where you compete against others for a global ranking
Find new online levels to play with a single click
Real 3D levels with Teleporters, Healing Stations and floating platforms
Online ranking for all game modes
Teams and individual multi-player games against Humans, AI or both!
Brand new Cubemen OST included with all Steam purchases
The game is available for $7.99 for a single license and $9.99 for a twin pack license, however special discounts are available for those who purchase the game during its launch week, with a further deal for those loyal customers who own the original Cubemen game. Cubemen 2 supports Windows, OSX and Linux and you can download the game from Steam now. An iOS and Mac App Store version will be arriving later in Spring 2013.
Check out the launch trailer below and visit the website for more information on Cubemen 2.