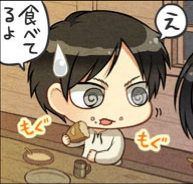 The official Attack On Titan site has started posting Chimi-Chara type comic strips set as a manga spinoff and usually is shown after each new episode airs in Japan. It's probably a good idea considering how intense the main series is, not a lot can bring you back from watching people get devoured by giants but this MIGHT. The cute, little manga is only available for a week after each episode is aired so get in quick!
Now that these little chibi comics are being released weekly we've seen a hug spike in Attack On Titan merchandise; some posters and keychains but we will mostly see this Chimi-Chara style of design in the new gear to soon be released.
Check out the gallery below to see all the new stuff and don't forget to head down to out comments section and drop us a line!