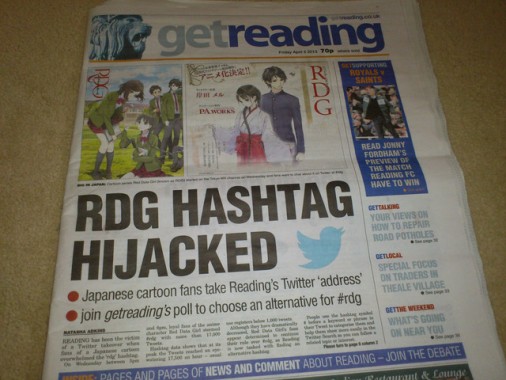 The town of Reading, England has become the latest victim of the vile and vindictive anime fans inhabiting the Twitterverse looking for unsuspecting English towns to prey upon – or so they claim.
Recently fans of the anime series Red Data Girl took to twitter using the hashtag #RDG to discuss the series. Local Reading newspaper GetReading posted a front page news article which claims that anime fans hijacked Reading's twitter address. In actuality, Red Data Girl fans just bombarded the hashtag and did nothing at all with any official Reading account on Twitter.
GetReading outlined the incident on their official website:
Reading was the victim of a hostile twitter takeover yesterday when fans of a Japanese cartoon stole the #RDG hashtag.

Yesterday evening, between 5pm and 6pm, loyal fans of the cartoon figure Red Data Girl stormed #RDG with more than 17,000 tweets.

Hashtag data shows that at peak the tweets reached an eye watering 17,500 an hour, usual use registers below 1,000 tweets.

Although their tweets have dramatically decreased, Red Data Girl's fans appear determined to continue their rule over #rdg so Reading is now tasked with finding an alternative hastag.
It all sounds so painfully ridiculous with an apparent war over a hashtag that would feel at home in Game Of Thrones, if the Iron Throne were a hashtag and Westeros was Twitter that is.
Reading seems to have conceded the battle against the Red Data Girl fans. Social Media 'Expert' Heather Hughes warned the town of Reading that in this particular case it was best to stand down, "It is a good idea to change the hashtag as it is likely to get hacked again."
In order to avoid being 'hacked' again, Reading citizens have been called upon to vote on a new Twitter 'address' with the following choices being proposed: #redding, #rg1, #rdguk, #ding, #rding
It just goes to show that anyone can be targeted by these extremist hacker anime fans who get their jollies off from stealing innocent English town's hashtags. You should all be ashamed of yourselves for what you have done to poor little Reading – or you know, just laugh about it.
Source: Crunchyroll