The final week of Warner Bros. Interactive Entertainment and DC Entertainment's Injustice Gods Among Us 'Battle Arena'  round 1 battles has concluded. It was a big week; we got first footage of Sinestro and Hawkgirl in action and the quarter-finals of the tournament have been established.
First up we had the confrontation between Superman and Sinestro. I'm pretty sure there are scores more Superman fans than Sinestro fans, so I'm not entirely sure the intricacies of their fighting styles/powers and a conversation or debate on who would have the upper hand in a real fight matters in this instance; just on a pure popularity vote, you'd have to imagine that Superman would win. Watch the battle video below to see if Sinestro could indeed strike fear into the heart of the Man of Steel (highly unlikely).
Superman vs Sinestro
The second fight of the week was between the tricky Green Arrow, and the swift and tough-as-nails Hawkgirl. This is a much closer match (granted, almost any fight with Superman in it is not going to be close). Ice, Explosive, Electric, Fire, Rope… all arrow types in the quiver of the skilled marksman, Green Arrow. Hawkgirl, however, has the Nth metal mace, can fly, is ruthless and does not give up. Watch the resultant battle below to find out if the arrow stops the hawk.
Green Arrow vs Hawkgirl
Here is the fight bracket showing the quarter-final match-ups, which will commence on March 11th: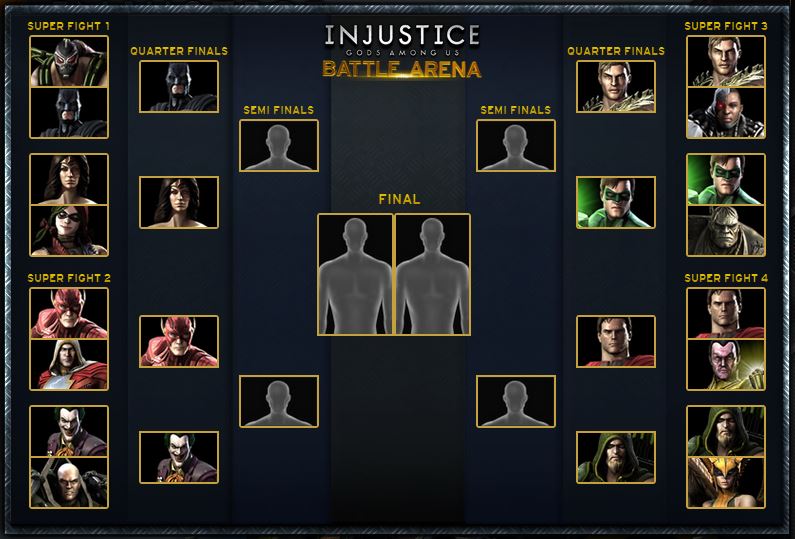 Remember to visit injustice.dccomics.com to cast your votes on all future battles. For those who are unfamiliar with the competition, its rules or the prizes at stake, go here for more information.