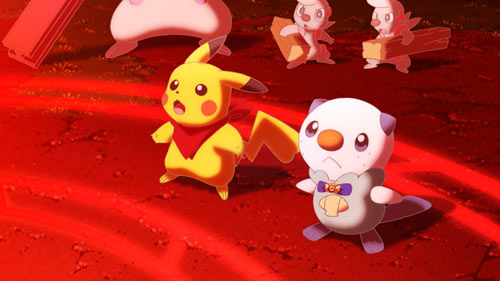 In conjunction with the North American release of Pokemon Mystery Dungeon: Gates to Infinity, the English dubs of two anime shorts have been released.
The shorts focus on a human who has mysteriously been transformed into a Pokemon, in this case an Oshawatt, following Mystery Dungeon's recurring transformation theme. Paired up with his new partner Pikachu, no not that Pikachu, the two set out to create a "Pokemon Paradise". The shorts also show a run in with Kyurem, the legendary dragon, who seems to be getting quite a reputation in the anime.
Though just released in North America, Australian fans will have to wait until May 18th, for the chance to play as either Snivy, Oshawott, Tepig, Axew or Pikachu (this is a Pokemon game after all, of course you can be Pikachu).
Check out the anime shorts below and dive into the world of Pokemon, literally.