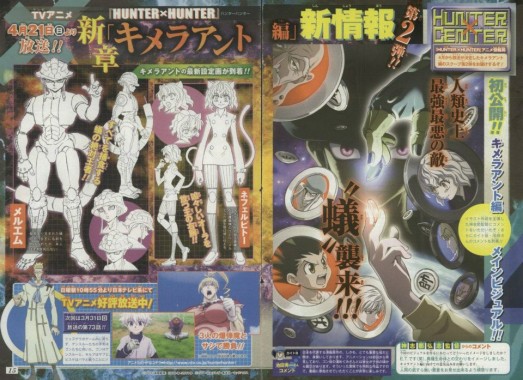 In the latest issue of Weekly Shonen Jump a new visual for the upcoming and hotly anticipated Hunter x Hunter Chimera Ants arc was revealed. The new visual which can be seen in the scanned image above features the character designs for all three Royals Guards and of course the Chimera Ant King himself Meruem.
The 2011 Hunter x Hunter anime which is currently airing will be finally entering the Chimera Ant arc on April 21st, 2013. The previous anime series ended before the Chimera Ants arc and thus has left quite a strong desire from fans of the Hunter x Hunter manga to see this arc animated. The arc is often touted as the best of the entire manga.
At this point there has not been any confirmation in terms of casting for Meruem, Neferpitou and the rest of the Royal Guards. It was confirmed however that legendary voice actor Shuichi Ikeda will be playing the role of Gon's childhood mentor Kite.
With the rise of the Chimera Ants it looks like Gon and friends will surely have their work cut out for them, but its nothing Gon's 'Janken' couldn't handle right?