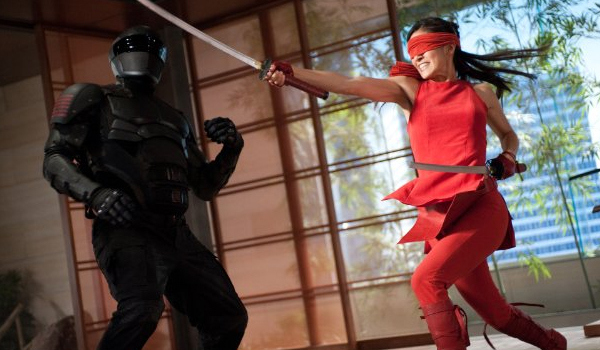 The press attention for G.I. Joe: Retaliation is sizzling now, and so it's only apt that we have some sizzle reels for you, as well as a vignette featuring interview snippets with director Jon M. Chu, inter-cut with new scenes (which can be seen at the very bottom of this article).
The first sizzle is dubbed the "Lupe Sizzle" as it is backed with the Lupe Fiasco track, "Little Weapon" (feat. Bishop G, Nikki Jean). The second is called the "Macho Sizzle" – and yep, you guessed it – it shows the male members of the cast filming the more physical sequences as well as the end result. Although I am disappointed in the distinct lack of Storm Shadow (Byung-hun Lee). The two videos can be viewed directly below.
Lupe Sizzle
Macho Sizzle
G.I. Joe: Retaliation comes out nationwide on March 28th. Look for our review to be up on March 25th. Also read our own interviews with cast members Adrianne Palicki and DJ Cotrona, Byung-hun Lee and the director Jon M. Chu.