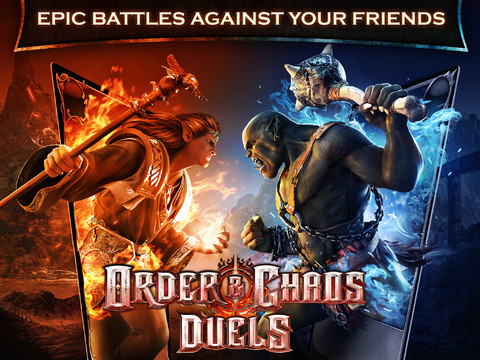 Welcome back for this week's iOS Game Suggestions. If you missed last week's, or are new to the suggestions, click on the link below and check out what cool games you should be picking up for your iOS device along with the introduction on how the suggestions work. (suggestions 1 has how it all works)
MasterAbbott's iOS Game Suggestions
A great week on iTunes! As always, it started slow and but ended with a bang! There are many must-buy games this week in all departments, FREE, 99c and over 99c. This week I've suggested a total of 18 great quality titles. Make sure you check them all especially… Unmechanical, Kingpin Lanes, Fetch, Snoopy Coaster, Nitro, Order & Choas Duels  just to name a few.
Break down below :
10 – FREE Games
2 – $0.99c Games
6 – Over $0.99c Games
As always for this week's suggestions are all new titles that you should take a look at and consider spending your hard earned iTunes cash / time on.  Well the Free games just below certainly should all be given a shot as they won't cost you anything!
For The Cheapskates – FREE GAMES
 

MASTERABBOTT'S FREE GAME PICK OF THE WEEK!

Order & Chaos Duels – Price : FREE – Publisher – Gameloft (Rediscover the Order & Chaos universe in this FREE collectible trading card game (TCG) that lets you battle with evil forces in many adventures or against real players for leaderboard supremacy.
The ancient demonic spirit Velik and his Corruption have returned to form and use the world as their twisted, wicked playground once again.) on iPad & iPhone. GET IT NOW FOR FREE

 
Heros & Havoc – Price : FREE – Publisher –

Mobage

 (Heroes & Havoc is a role-playing game where you, an angel punished for bringing magic to mortals, seek to wreak your revenge. You and your Heroes will take the war to the gods, fighting their Heroes and minions in epic battles. Featuring an addictive blend of card battle and tactical RPG combat, Heroes & Havoc brings role-playing games to a new level.

) runs on iPad & iPhone.

GET IT NOW FOR FREE

 
Legacy Of A Thousands Suns – Price : FREE – Publisher –

Zattikka

 (Legacy of a Thousand Suns is a free online social sci-fi MMO RPG game for your Mobile Device. It features breathtaking futuristic art, engaging story that offers many gameplay options, ideal for both casual and core gamers. Old rivals bearing powerful new technologies have declared war on the Sian Empire. Princess Illaria's enemies are hunting for her – and if she falls into their clutches the empire will be doomed. Only you can save her now…

) runs on iPad & iPhone.

GET IT NOW FOR FREE

 
The Wizard Of Oz Game – Price : FREE – Publisher –

Warner Bros

 (Join DOROTHY™, TOTO™ and all of your friends in THE WIZARD OF OZ™, an adventure-driven town builder based on the most-watched movie of all time! There truly is no place like the Land of Oz – and you can visit anytime, from the comfort of your own home or on the go!

) runs on iPad & iPhone.

GET IT NOW FOR FREE

 
Alien Hive – Price : FREE – Publisher –

AppXplore

 (Alien Hive is all about evolving aliens, blending match-3 with sliding tile puzzles for a game that feels both familiar and fresh. Swipe tiles to make matches – combine eggs to hatch cute baby aliens, and then help them fully evolve into Supreme Aliens.

) runs on iPad & iPhone.

GET IT NOW FOR FREE

 
Monster World – Price : FREE – Publisher –

Wooga

 (Start a completely unique adventure with a new garden, exciting stories and re-imagined plants! Already a player on Facebook? It's not synchronized, so enjoy a second garden exclusively made for your touch device. Discover a mysterious land of weird plants, wonderful decorations, and a fantastic storyline. Grow and harvest Bumble-Bee Bushes, Lollypop Palms, Fortune Flowers and much more! Meet Robert the robot, a quirky baby, and other funny characters along the way, in your very own monster garden.

) runs on iPad & iPhone.

GET IT NOW FOR FREE

 

Motor World: Car Factory – Price : FREE – Publisher – Mobage (BECOME THE GREATEST CAR MAKER IN THE WORLD! Step into the captivating and cheerful Motor World, filled with amazing cars and shiny, happy people! Run a small car factory and turn it into the best company in the world. Build your cars, create new ones, make your workers happy, please your customers, arrange your retail stores and play with your friends.) on iPad & iPhone. GET IT NOW FOR FREE

 
Mini Golf Matchup – Price : FREE – Publisher –

Scopely

 (Welcome to the most addicting mobile mini golf game in the world. Don't believe us? Check out these fictitious celebrity endorsements!

) runs on iPad & iPhone.

GET IT NOW FOR FREE

 

Solitaire Blitz – Price : FREE – Publisher – PopCap (Discover a whole new world of solitaire in this fast-paced treasure hunt! Match cards quickly to clear the decks in 60 seconds, collect treasures, and compete with friends. Dive into uncharted waters to uncover rare artwork and priceless antiques. Meet colorful characters during your underwater adventure. Match fast and score big to top the leaderboards, and share the wealth with friends. You've never played solitaire like this – it's a fast, fun, social event!) on iPhone & iPad. GET IT NOW FOR FREE

 

Nitro – Price : FREE – Publisher – Z2Live (Join adrenaline junkies worldwide and be a part of Nitro's racing league. Get ready to test limits, break records, and be one of the top drivers with the hottest rides around! You'll compete to be among the elite, as you speed through thrilling tracks in stylish, highly upgradable and customizable cars! Challenge your Friends in Head-to-Head and Multiplayer races, enemies in the Rival Circuit, and your own track records in Time Trials!) on iPhone & iPad. GET IT NOW FOR FREE
For The Bargain Hunters – 99c Games
| | |
| --- | --- |
| | Snoopy Coaster – Price : $0.99 – Publisher – Chillingo (Take Snoopy, Charlie Brown, Linus, Lucy and Peppermint Patty on the wildest rollercoaster ride on the App Store. Featuring the iconic original artwork of the universally adored Peanuts comic, Snoopy Coaster is a must-have for fans everywhere.) runs on iPad & iPhone. BUY NOW |
|   | Pug Run – Price : $0.99 – Publisher – Tic Toc Games (PUG RUN takes you on a magical journey of Bogart, a pencil sketched pug, determined to come to life! After being drawn by a small boy with a larger than life imagination, Bogart awakens and begins to run toward the boy, only to find The Void slowly creeping up behind him to stop him in his tracks. See the world change from black and white to color, the closer Bogart gets to the boy.) runs on iPhone & iPad. BUY NOW |
For The Millionaires – All games over $0.99
 

MasterAbbott's over 99c Pick Of The Week!

Unmechanical – Price : $2.99  – Publisher – Teotl Studios (Unmechanical is all about the adventure of a little helicopter trapped in a strange, but fascinating world. Help him through to discover the secrets of the world! Unmechanical is a puzzle adventure that combines tricky puzzle solving, alluring exploration, and an engrossing atmosphere. Set in a fantastic world of flesh, rock and steel, your journey to freedom requires you to solve a great variety of puzzling challenges, and while it's easy to pick up and play, later challenges may prove very difficult indeed.) runs on iPhone & iPad. BUY NOW

 

Kingpin Lanes – Price : $1.99  – Publisher – Speedbump (Built by one guy using the power of the Unreal 3D engine, Kingpin Lanes is the first game to offer the entire bowling alley experience, featuring A fully explorable environment, with findable and interactive objects, a functioning Pro Shop, and more.) runs on iPhone & iPad. BUY NOW

Abalone – Price : $5.49 – Publisher –

Bulkypix

 (Discover – or re-discover – all the fun of Abalone on iOS. Play the classic game or try out the different competition boards. The rules could not be simpler – moving your marbles in lines, push your opponent's marbles off the edge of the board. The first player to push six marbles off the board is the winner. Reached the end of the official Abalone game mode? Get to grips with the many challenges lined up by the game's creators. Have you got what it takes to succeed?

) runs on iPad.

BUY NOW

 
Kingdom Rush HD – Price : $2.99 – Publisher –

Armor Games

 (The acclaimed action fantasy defense game is now available for iPad in High Definition! Get ready for an epic journey to defend your kingdom against hordes of orcs, trolls, evil wizards and other nasty fiends using a vast arsenal of towers and spells at your command!) runs iPad & iPhone. BUY NOW
 

Pirrrates! HD – Price : $1.99  – Publisher – Alawar Entertainment (Choose your loyalty, will it be with the pirates of the high sea, or their arch nemesis the Royal Navy? Control the crews of one side, and strategically maneuver your forces to completely overwhelm the enemy! Use magic and skills to help you during the fight. Prepare for battle in this fast paced, highly fun, over-the-top strategy game! Time to sail away!) runs on iPad. BUY NOW

 

Fetch – Price : $5.49  – Publisher – Big Fish Games (How far would you go to save your pet? Follow a young boy on a sensational journey like no other as he sets off to rescue his dog Bear from a mysterious fire hydrant that snatched the canine in the night! Big Fish Studios is proud to present Fetch, an adventure tale that will warm your heart and keep you glued to the screen! One part interactive animation, one part childhood delight, equal parts adventure and arcade, Fetch captures the timeless emotion of puppy love and takes you on a journey through dark tunnels and sandy shores to save your best friend. Do you have what it takes to save Bear? Prepare yourself for a wild ride filled with wagging tails and boisterous barks!) runs on iPhone & iPad. BUY NOW
There you have it folks these games should keep you busy for quite some time well until next week at least. I'll be back next week for another dose of iOS goodness, in the meantime if you would also like to suggest your own suggestions, please feel free to share them in the comments section below or in the iOS forum section on the site here.
Remember kids, Play Hard Or Don't Play At All!