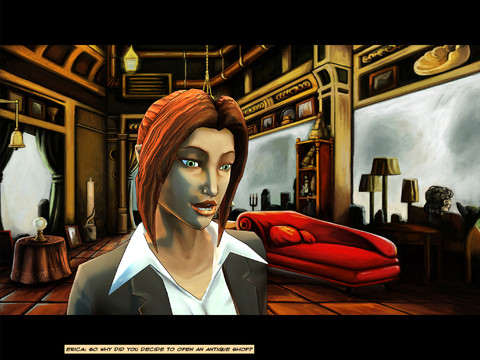 Welcome back for this week's iOS Game Suggestions. If you missed last week's, or are new to the suggestions, click on the link below and check out what cool games you should be picking up for your iOS device along with the introduction on how the suggestions work.
MasterAbbott's iOS Game Suggestions
A great week on iTunes! As always, it started slow and but ended with a bang! There are many must-buy games this week in all departments, FREE, 99c and over 99c. This week I've suggested a total of 22 great quality titles. Make sure you check them all especially… Cognition Episode 1, Up In Flames, Penumbear, Mini Ninjas, Gravity.Duck, Figaro Pro Creatures & Critters, Silent Age, Deepworld, Spellstorm  just to name a few.
Break down below :
8 – FREE Games
9 – $0.99c Games
5 – Over $0.99c Games
As always for this week's suggestions are all new titles that you should take a look at and consider spending your hard earned iTunes cash / time on.  Well the Free games just below certainly should all be given a shot as they won't cost you anything!
For The Cheapskates – FREE GAMES
 

MASTERABBOTT'S FREE GAME PICK OF THE WEEK!

Spellstorm – Price : FREE – Publisher – TinyCo (Play the awesome new collectible card game featuring visceral animated battles, amazing card animations, and a monstrous new combat system! Build a winning battle deck and test your strategy against other players. Conquer and rise to the top of the leader boards for prizes!) on iPad & iPhone. GET IT NOW FOR FREE

Blendoku – Price : FREE – Publisher –

Loney Few

 (A puzzle game that will challenge your ability to distinguish and arrange colors. The game is based on color principles and exercises taught in art schools around the world. Play through hundreds of levels with a wide gamut of difficulty. The game is perfect for kids and adults, casual users and experienced gamers alike.

) runs on iPad & iPhone.

GET IT NOW FOR FREE

 
Deepworld – Price : FREE – Publisher –

Bytebin

 (Deepworld is a massively-multiplayer 2D crafting adventure game. Mine and craft your way through a persistent online universe where there's always something new to discover!

) runs on iPad & iPhone.

GET IT NOW FOR FREE

 
Small City – Price : FREE – Publisher –

Glu Games

 (Welcome to Small City! As new mayor of the "Next Big Street" you've been invited to build the best restaurants, shops and townhomes around! Move in new citizens and give them cute costumes and pets. Finish their life goals to make them even happier! And visit your friends to help them out and check in on their progress! Get started today and get hooked on the cutest, most lively city in town!

) runs on iPad & iPhone.

GET IT NOW FOR FREE

 
Hockey Showdown – Price : FREE – Publisher –

Naquatic

 (The App Store's biggest sports franchise hits the ice! Match up against your friends, your enemies, or anyone worldwide in a head-to-head Hockey Showdown!

) runs on iPad & iPhone.

GET IT NOW FOR FREE

 

Trenches II – Price : FREE – Publisher – Thunder Game Works (DIG FOR VICTORY! TRENCHES II wants you to join the fight! Wage a whole new war, as more nations join the struggle. Fight an epic campaign through an expanded world map. Engage the enemy in more realistic, treacherous battlefields with all-new artillery and troops.) on iPad & iPhone. GET IT NOW FOR FREE

 
Chasing Yellow – Price : FREE – Publisher –

Dreamfab

 (Take an Adventurous swim in the raging river as the Chase continues! 7-year-old Mathilda lets her helpless goldfish, Yello, taste freedom in the local wild creek. Help Yello to escape Mathilda and navigate the poor fish through a rough adventure in the dangerous river filled with rocks, burning logs and piranhas! Will Yello escape, fall victim to the hazardous environment, to Mathilda's fish net??

) runs on iPad & iPhone.

GET IT NOW FOR FREE

 

Silent Age – Price : FREE – Publisher – House On Fire (It's 1972. Love is free. Flipflops, English leather and bandanas are the height of fashion. Meanwhile the Cold War is more than lukewarm and a real one is going on overseas. Movements are happening. Environmentalists, the female liberties movement, and on the dance floors an entirely different kind of movement is overtaking the underground clubs. The winds of change are certainly blowing over the country.) on iPhone & iPad. GET IT NOW FOR FREE
For The Bargain Hunters – 99c Games
Up In Flames – Price : $0.99 – Publisher – Chillingo (Set the world alight in this physics-based puzzler. Cute, green, and scaly, Baff the Dragon isn't your typical superhero but when wolves, sharks, and yetis kidnap his friends it's time to don his cape and mask! Unleash Baff's blazing attacks and burn his enemy's fortresses to the ground and free his imprisoned friends. Use explosives, springs, boulders and Baff's dragon friends to your advantage for red-hot results.) runs on iPhone & iPad. BUY NOW

 

Toy Story: Smash It! – Price : $0.99 – Publisher – Disney (The Toys are back! Join Buzz, Woody, and the rest of the Disney Pixar "Toy Story" gang on their latest adventure! "Toy Story: Smash it!" is an all-new, 3D physics-based puzzle game featuring your favorite "Toy Story" characters! Embark on new adventures with the Toys through hilarious encounters in outer space, alien chases in the Wild West, and more! With 60 levels of nonstop puzzle play, this game will provide hours of explosive and thrilling fun!) runs on iPad & iPhone. BUY NOW

 

Purple Cape – Price : $0.99 – Publisher – Crescent Moon Games (An evil witch kidnapped Purple Cape's love to make into a deadly beauty potion! Save her from the evil witch. The forest lands are cursed and they are the only way to find the witch's castle. It's a long journey, be careful, time is running out! Help Purple Cape save his love!) runs on iPhone & iPad. BUY NOW

 

1001 Attempts – Price : $0.99 – Publisher – Everplay (Tired of games that claim to be addictive? Well, you shouldn't be because addictive can be fun! 1001 Attempts introduced exciting yet simple gameplay elements that keep you coming back for more!) runs on iPhone & iPad. BUY NOW

 
Mini Ninjas – Price : $0.99 – Publisher –

Square Enix

 (JOIN THE MINI NINJAS – THE SMALLEST HEROES TAKING ON THE BIGGEST DANGERS. Mini Ninjas is the ultimate Ninja game. Based on authentic ninja values, this beautiful, fast paced, fun adventure game takes you on an epic and exciting journey, free from gruesome violence and high on Ninja fun.) runs on iPhone & iPad.

BUY NOW

 

Gravity Duck – Price : $0.99 – Publisher – Ravenous Games (Get ready for a fun puzzle platformer created by the award-winning studio Ravenous Games! As the Gravity Duck you will flip gravity to help you reach the goal while avoiding obstacles in this silly puzzle platforming game!) runs on iPhone & iPad. BUY NOW 

 
Figaro Pho – Creatures & Critters  – Price : $0.99 – Publisher –

Chocolate Liberation Front

 (Help Figaro escape the clutches of a monster spider as he races through his gothic mansion. He's got the place rigged with gadgets but you better act quick – the clock's ticking!) runs on iPhone & iPad.

BUY NOW

 
Ski Safari  – Price : $0.99 – Publisher –

Defiant Development

 (Our deep sleeping hero has to stay ahead of a relentless avalanche that threatens the local mountainsides. Sven, as we like to call him, can use animals to aid his escape from an icey end. Each of the hillside animals have different attributes to make a speedier escape. Penguins glide further, Yetis are tougher, Eagles soar to great heights, each of these can provide useful advantage for Sven. Sometimes on the slopes Sven can find fast Snowmobiles which can ferry multiple animals a maintain a very high top speed.) runs on iPhone & iPad.

BUY NOW

 
8 Ball Pool  – Price : $0.99 – Publisher –

Miniclip.com

 (8 Ball Pool by Miniclip's level and ranking system means you're always facing a challenge. Play matches to increase your level and get access to more exclusive match locations, where you play against only the best Pool players.) runs on iPhone & iPad.

BUY NOW
For The Millionaires – All games over $0.99
 

MasterAbbott's over 99c Pick Of The Week!

Cognition Episode 1 – Price : $4.49  – Publisher – Phoenix Online Studios (Take on the role of Erica Reed, a Boston FBI agent with the power to see the past, in this intense adventure game as she follows the trail of four different serial killers, and a series of clues left for someone with her specific ability. Who's leaving the clues? How do they know her secret, and what do they want from her?) runs on iPhone & iPad. BUY NOW

 

Penumbear – Price : $3.99  – Publisher – Bulkypix (Penumbear awakens in a dark castle basement, completely alone aside from a small purple firefly to keep him company. Luckily this firefly has a special ability to turn lights off and on, and Penumbear has his own unique ability to walk on the lines where shadow and light meet! PENUMBEAR is a classic platformer with an emphasis on danger, exploration and puzzle solving. Each of the game's 100 levels combine lights and blocks to create drastically different layouts for Penumbear to explore as he tries to find his way out of the dark castle.) runs on iPhone & iPad. BUY NOW

 
Smagnetron – Price : $1.99 – Publisher –

Chilibite Entertainment

 (Drive the Smagnetron spaceship through 100 levels of stellar physics-based puzzles with your ability as a single resource to overcome the obstacles that arise on your way. Embark on a beautiful and absorbing journey through the Universe and explore new constellations, discover Smagnetron!

) runs on iPad.

BUY NOW

 
Slingshot  Puzzle HD – Price : $1.99 – Publisher –

Alawar Entertainment

 (In the mood for a good puzzle? How about one that will bend your mind and test your wits? Do you have what it takes to master the game, or will you be left broken and bewildered? Fire the amazing slingshot mechanism and release the ball, with the hopes of it ending up in the difficult ending zone! Let the puzzle solving begin!) runs iPad & iPhone. BUY NOW
 

AVP: Evolution – Price : $5.49  – Publisher – Fox Digital Entertainment (The deadliest creatures in the universe face off for the first time on your phone and tablet. Play as both the Alien and Predator in this official game brought to you by Angry Mob Games, the creators of PREDATORS™, Guerrilla Bob and Muffin Knight.) runs on iPhone & iPad. BUY NOW
There you have it folks these games should keep you busy for quite some time well until next week at least. I'll be back next week for another dose of iOS goodness, in the meantime if you would also like to suggest your own suggestions, please feel free to share them in the comments section below or in the iOS forum section on the site here.
Remember kids, Play Hard Or Don't Play At All!