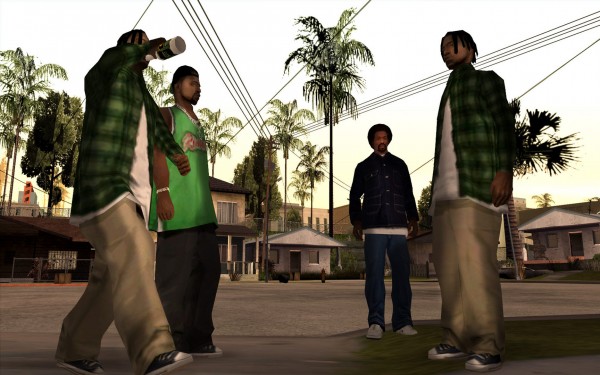 Avoiding chocolate this Easter? Cheap PC games will help you avoid those sugary calories!
Steam has the Grand Theft Auto series and the Hitman series on sale this weekend at 75% off the local price. All of the 3d Grand Theft Auto titles are on sale separately or buyers can opt for the Grand Theft Auto Complete Pack that contains all of the PC titles including Grand Theft Auto 1 and 2 which are unavailable for purchase on their own. Personally, if I can only recommend one then Grand Theft Auto: San Andreas is probably my favourite title. Grand Theft Auto is definitely a series that deserves to have one of its games played by every gamer.
The Hitman series including the recently released Hitman: Absolution are also on sale. This is the second lowest price since its release. So if you missed Greenman Gaming's 75% off plus an additional 20% off, snag it at Steam. Gamers on Reddit are reporting that they are receiving Hitman Sniper Challenge as an added bonus. This was not included in the GMG sale, so that definitely makes up for the extra 20% off not available on Steam. If you aren't sure about Hitman: Absolution, be sure to read our review.
Greenman Gaming has Codemaster, Plug in Digital, Saints Row the Third, and Tomb Raider games on sale this weekend and a 20% off coupon that works for most games. Remember to try out GMG20-FDSCL-AQQXD on your purchase. The recently released prequel Tomb Raider is 25% off, the cheapest price so far. Just be aware the 20% off coupon will not work with Tomb Raider. If you found GTA IV a little too series for your liking or wished for a co-op open world experience, I highly recommend Saints Row the Third. However, the game regularly goes down to 75% off, so skip this sale. If you were still on the fence about purchasing A Valley Without Wind 1 & 2 last week, the game is now even cheaper as the 20% coupon stacks with this sale. Finally, GMG brought back the 25% off coupon, GMG25-S0FSG-R7Z9B, for Dead Island: Riptide, Defiance, and Metro: Last Light. Check out our preview for Dead Island: Riptide, our review of Tomb Raider, and watch our very own Joe Morgan play the first 30 minutes of the Defiance Xbox 360 beta.
Gamefly is running their own 20% off coupon code too. Enter GFDAPR20 at checkout. Puzzle fanatics getting bored with Portal 2 should definitely check out Quantum Conundrum which is 75% off and works with the coupon code. Origin redeemable Syndicate is also 75% off.
Ubisoft's Uplay store has an Easter Sale this weekend. Most of the deals are completely forgettable at 50% off. However, Orcs Must Die 2, Alan Wake, Walking Dead, Tomb Raider, Assassin's Creed III, and Chivalry: Medieval Warfare are all at one of their lowest prices. Just be aware, all of these only activate on the Uplay service. I highly recommend Orcs Must Die 2 if you love tower defense or co-op games. Walking Dead is a must play whether you are a fan of the show or not.
Amazon has Dark Souls: Prepare to Die edition on sale for $14.99. This is the cheapest price for the game so far. If you are looking for a fiendishly difficult game, this is it. Be prepared to roll up your sleeves a little to make this game run the best on the computer though. Amazon is also running a 2k Games Weekend sale. Those who pre-ordered Bioshock Infinite on Amazon and have credit for 2K Games are able to use it here if they aren't saving it for the upcoming Civ V expansion. XCOM: Enemy Unknown and Civ V: Gold Edition are on sale for 50% off while the rest of the games are 33% off. For the exception of XCOM, the prices are not very good and should be avoided. Those wishing to purchase Civ V: Gold Edition right now should look at purchasing from Get Games for 66% off. If you can wait, Civ V goes down to 75% off during major sales.
Get Games has a World Builder Sale on this weekend. Tropico 4 Collector's Edition at 75% off is recommended for those looking for a city building alternative to a certain heavily DRM-ed city builder. The Collector's Edition contains the base game and Tropico 4 – Modern Times expansion. The DLC and the Modern Times expansion alone is 50% and 66% off respectively and should be avoided. They have gone down to 75% off in the past and will most likely will drop down to that price in the near future.
GamersGate has a decent sized sale this weekend. The big title is Borderlands 2 for 66% off. This is the lowest price so far and a fantastic game. I highly recommend purchasing the game at this price. As a bonus, the Season Pass is also 50% off, one of the lowest prices yet. GamersGate also has Tomb Raider for sale, so buyers have plenty of options on where to purchase their copy this weekend as all three retailers running Tomb Raider sales are selling the game for the exact same price.