Byung-hun Lee is a one of the leading actors of what is known as the "Korean Boom" in television and film. A mega-superstar in Korea, Byung-hun is finding growing international popularity, and not just in Asia either.
Films like 'Addicted', 'A Bittersweet Life', 'The Good, The Bad, The Weird' and 'I Saw the Devil' have given him critical acclaim alongside the mainstream television success he has enjoyed in his home country of South Korea – such as with 'Iris', which was adapted into a feature-length film.
As part of a round-table, we managed to get in a few questions with the magnetic actor as he visited Australia promoting G.I. Joe: Retaliation, in which he reprises his role as Storm Shadow.
---
How did you feel about swapping from being super-evil in 'Rise of Cobra' to siding with the Joes this go around? How do you feel about your character changing?
It's a turning point. Seriously, I really like Storm Shadow. He's selfish; he goes on his own way. Actually he doesn't care about what G.I Joe is or what Cobra is. He goes his way. He just takes advantage of their purpose. Even though their purpose is different he just uses them. If you saw the movie, he just went his way. He refused Snake Eyes' suggestions. He just refused them and went his way. That's his turning point.
What's the biggest difference between acting in a big film in Korea like 'I Saw the Devil' and filming something like 'G.I. Joe' and 'G.I. Joe 2'?
I really like those movies, actually (A Bittersweet Life, I Saw the Devil), that's why I work with him (Ji-woon Kim) a lot. It's not commercial film. There a lot of ideas of my work and his work but you cannot tell it's a commercial film. I really want to do what I really want in Hollywood but this (G.I. Joe) would be my really good chance for a career. This is a really big budget movie, it's going to be released all over the world, and if they think 'oh hey, it's really good' finally I can choose what I really want. So I think this is a process.
Seeing as American films import a lot of foreign films for remakes, is there something you've been a part of that you'd actually be interested to see remade in the American style?
Somebody already bought A Bittersweet Life and Addicted, one of my romance movies…romance and mystery. I don't want to join those remakes.
Is that because you've already done it and it would be uninteresting to play the same character – or a slightly different version of it – again?
Doing the same character is not a reason actually. I don't think it's boring, but I think that's (the Korean original) the best one. If I make the same one I don't feel confident that I can make it better. It's got its own environment and mood that movie, so I don't want to change the colour of the movie.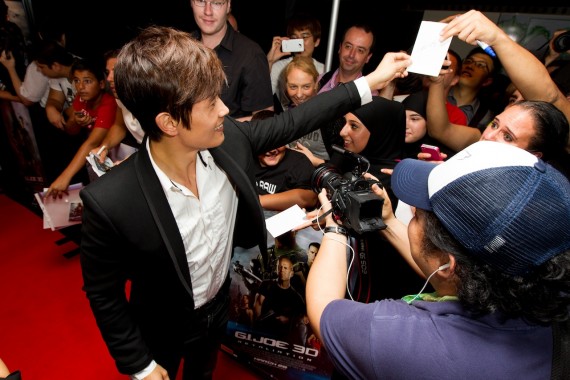 Of course, you guys just came from the premiere in Seoul; what was the reaction like in Korea?
Mostly, they're working in the movie industry (those at the showing) and they like it. Korean people, they concentrated more about my performance compared to the story. It's not right, it's not fair actually. They just concentrated about me. "Wow, you're better than in the first one!" Most of the reaction was like that; I couldn't share the exact reaction of the movie but I think they enjoyed it.
Now that Chan-wook Park and Ji-Woon Kim have also made the transition over to Hollywood, do you catch up with them and do you see yourself reuniting with either and working with them in America?
You know when I was filming G.I. Joe 2 they were working in other states. Park was working on 'Stoker' and Kim was working on 'The Last Stand.' We just texted each other and talked on the phone, they said "this is crazy and I want to go home." [Laughter] The system is so different in America. The studio and the producer is much stronger but not in Korea. In Korea, the director is king. He can change everything – even the budget sometimes! So they must have a lot of hard times. Then I finished and they finished and we three met in L.A. We didn't talk about that. We talked and complained. I could tell that they think "I really want to work with Korean actor" and I do with them. With this kind of great director and a Hollywood movie would be awesome. Maybe they are thinking like that.
It would be awesome to see a reunion with either, or both! Thanks for your time!
---
Check out our interviews with fellow cast-mates Adrianne Palicki and DJ Cotrona and director Jon M. Chu. You'll be able to see Byung-hun Lee in 'G.I. Joe Retaliation' nationwide on the 28th of March this year. Our review will be up days earlier on March 25th. In the meanwhile, check out this clip of Storm Shadow taking on his arch nemesis Snake Eyes.