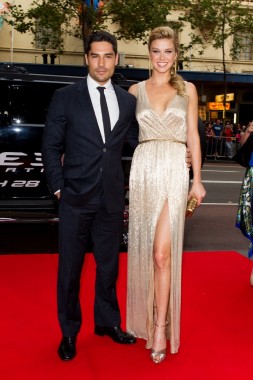 With 'G.I. Joe Retaliation's' release imminent, we were given a series of round-table interviews with the stars during their media trip to Australia (part of a global premiere run). Our first was with Adrianne Palicki, who plays Lady Jaye, and DJ Cotrona, who plays Flint.
Adrianne was recently featured in the remake of 'Red Dawn,' as well as having great success with the TV show 'Friday Night Lights'. She was slated to play Wonder Woman in the self-titled television series and shot the pilot, but the show was not picked up.
DJ Cotrona is also extending himself into more feature-film work after starring alongside fellow 'Joe' Channing Tatum in Dear John in 2010. He was a principal cast member on the TV series' 'Detroit 1-8-7' (2010-2011).
SPOILERS: We reference one particular event in the film in our questions that has a sizeable effect on the film's plot. It was revealed online many months ago, so it's not exactly news. BUT, we still don't want to ruin anything for those who don't already know, so you've been warned.
---
How familiar were you guys with the franchise before taking on these roles?
DJ Cotrona: Intimately so. It had a hand in raising me. I was obsessed with it. My brother was, and you were too [to Adrianne].
Adrianne Palicki: Yes!
DJ: So to actually get to be a part of the film version of it was a childhood dream.
You've worked with Channing before, so are you guys good friends?
DJ: Yeah, we've been friends for a while. We like to bond over army uniforms and hold each other. Look at each other longingly and have emotional 'cry moments'.
AP: He got really awkward off set 'cause you guys do that randomly.
DJ: Yeah, I helped him practice for Magic Mike. 'Chan's' the best; I've known him for a while, he's a great guy and it was a lot of fun doing something with him.
Did you get a lot of time together on set seeing as he got killed off within like, 15 minutes?
DJ: As long as I get an emotional scene with Chan down in the dirt… Sarcasm doesn't translate to text I just realised. [Laughter]
What was it like working with Jon, the director. Given his dance background and everything he's done, did you find that background translated well into shooting an action film?
AP: Absolutely, it really does translate. The movement he has with cameras and the way he sees things, also he's around our age so it was one of those situations where we became fast friends. He didn't feel like this crazy superior guy, it felt very collaborative and we worked together. He was our buddy.
DJ: We were playing. We were literally playing with our friend. There was no pressure; it was about all of us throwing out ideas and pointing out the best one. I think Jon is a brilliant director. I think he's got really good taste. Aesthetically, he likes to capture kinetic movement, whether it's a dance movie or a giant action movie, he's really impeccable. Everybody always jumps and says he's the dancing movie director but that will end very quickly. He's very talented and I think he'll move up quickly.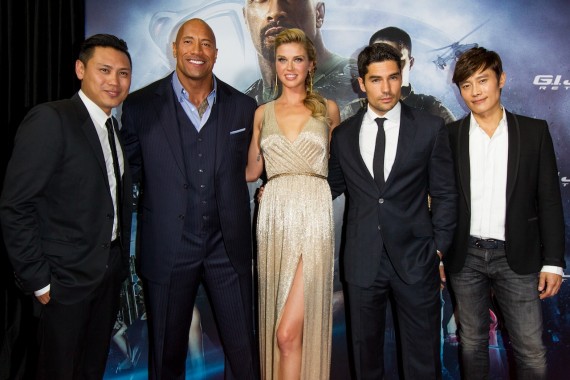 How did Jon go about getting movement from you?
AP: Everything we had really was very choreographed. We had phenomenal stunt coordinators. It was one of those situations too; John is very visual. We'd be working for days on a fight sequence and then get to the set on the day and he'd be like 'I don't like the way that looks' and immediately we'd have to…
DJ: Amazing looking things too…
AP: 'I just don't feel like this is going to flow with this.' He was editing it blind so on the fly Steve, our stunt coordinator would say 'this is what we're going to do…' He has this very specific brain that I think makes the movie flow very well.
As fans, what was your favourite thing to see materialise on screen?
DJ: The pontoon boat, I had that thing! I played with that thing in the bathtub. The Cobra helicopter, I had that thing. So much of it was… Everyday you'd show up on set to go and do your job and you'd look and there'd be this giant toy. You get so distracted.
AP: All of a sudden you're a child again. It's your job – this is awesome!
Are you guys worried you're going to be killed off in the next movie after what happened with Channing?
DJ: You know what? No, no. Wait…yeah, now I am. Thank you… [Laughter]
AP: Fingers crossed.
We hope not either. Thanks for your time guys!
---
Check out our interviews with fellow cast-mate Byung-hun Lee and director Jon M. Chu. You can watch 'G.I. Joe Retaliation' when it's released nationwide on the 28th of March. Our review will be up days earlier on March 25th.