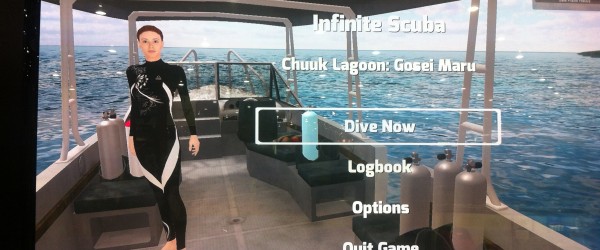 Seemingly out of left field, Cascade Game Foundry has launched their Scuba simulator for Mac and PC called Infinite Scuba which is set for a second quarter 2013 release.  The developers have gone through painstaking detail to make sure this title will be the next best thing to jumping in the water.  They have also collaborated with dive experts and the sages of the craft to make sure that the dive sites in the game match their real world counterparts.
Dive experts are not the only advisers Cascade Game Foundry has lent an ear to, they are also using real world dive equipment manufacturers to add more flair to the presentation.  Coming out as a downloadable game, the initial release has players exploring the infamous Chuuk Lagoon which hosted a pivotal battle during World War II and has since become a popular dive spot in the South Pacific.  Players swim through the reefs and shipwrecks searching for various species of fish and animal life as well as war artifacts which unlock local history and pictures.  Pictures can also be taken of dive spots and shared with friends to unlock extra in-game content.  Extra dive equipment and locales can be purchased and downloaded as well as extra challenges.
The collaborators making the game are trying to take a passion of millions around the world and present it to a broader audience and hopefully open the world of diving to a new generation of people, and to those who could not experience the sensation any other way.  For dive enthusiasts or just gamers interested in the sport, you can visit the official site at www.infinitescuba.com.